Social Goods x The Jack
Kate and Lisa Sokolov share a social conscience. After years spent in politics and fashion respectively, the sisters found a way to marry their skill sets, coming together to create Social Goods, a destination for curated products designed to inspire conversation and benefit causes that matter.
We sat down with them to discuss sisterly love, building a business and the intersection of politics and fashion.
Q + A
Does your passion for making the world a better place go back to your shared upbringing or is it something you came to later?
Kate Sokolov: It's definitely a combination! Our shared upbringing definitely played a big part: our parents are very philanthropic and always encouraged us to volunteer and support causes that mattered to us. For me, that background—combined with my interest in politics—led to working on political campaigns (for mostly women candidates!) and nonprofits. I also spent seven years at Google working on their social impact products/programs. I wanted to continue working in areas grounded by social impact, and getting to create Social Goods with my sister is an added bonus. Lisa Sokolov: Actually, I minored in political science (wink), but unlike both of my sisters, my career wasn't centered on civic engagement and philanthropy before Social Goods. I spent my career working in fashion, but I was so inspired watching them make meaningful change that, even before 2016, I was thinking of ways to apply my skills to social impact too.
How and when did you two begin talking about creating Social Goods?
KS: The conversation really evolved over time. We had the idea almost a year before we started working on it and it came from our POV as activists and shoppers. We knew there could be a better way to find goods that not only support the issues we (and others) care about, but also inspired conversations and more sustained action after the initial purchase.
How does your respective past experience help inform the creation and curation of Social Goods?
KS: Lisa is definitely the fashion one! She worked for over 15 years with brands including Saks Fifth Avenue and Bergdorf Goodman. We need her eye for design. She's also the operations expert…and realist! Her buying background taught her to think about both sustaining our business and scaling. Without her we wouldn't be able to pay bills! LS: Kate's background in politics, partnerships and marketing helps us build effective non-profit partnerships and raise awareness through social channels and more.
Ten years ago, selling only cause-driven collections might have left you with a single homemade soap and a hemp sack. Since there's been this amazing uptick in socially conscious lifestyle brands, what are a couple of favorite discoveries you two have made?
LS: We love getting to find other brands working in this space! We could not have launched Social Goods without the support of Pamela Bell of Prinkshop. Her designs are core to the collection and her guidance has been so beneficial. KS: We're also grateful for Bulletin, a women-founded wholesale marketplace that spotlights small, lesser-known brands. Through them, we've found so many likeminded businesses, creating unique, passion-driven products.
What is it like to work with your sister every day to make the world a better place?
KS: It's pretty great—most days! We constantly strive to balance being sisters (living together for the past six months) and co-founders. LS: We try to avoid having every conversation with our family be solely focused on Social Goods!
Is there a cause that's particularly close to each of your hearts right now?
KS: Voting! Voting! Voting! At Google, while creating products and programs that helped people find voting information, I learned so much about why people don't vote and all the barriers. The US is actually ranked 23 out of 32 developed nations for its percentage of eligible voters that actually turn out. We have to do better! LS: We've also partnered with Planned Parenthood of Greater New York and the National Institute of Reproductive Health, as a woman's right to control her own body could not be more important right now. We also just launched a new "New York Girl" collection (a kids tee and baby onesie) that benefits Welcome Baby, a non-profit that provides low-income families with everything they'll need for their newborn in the first four weeks of life.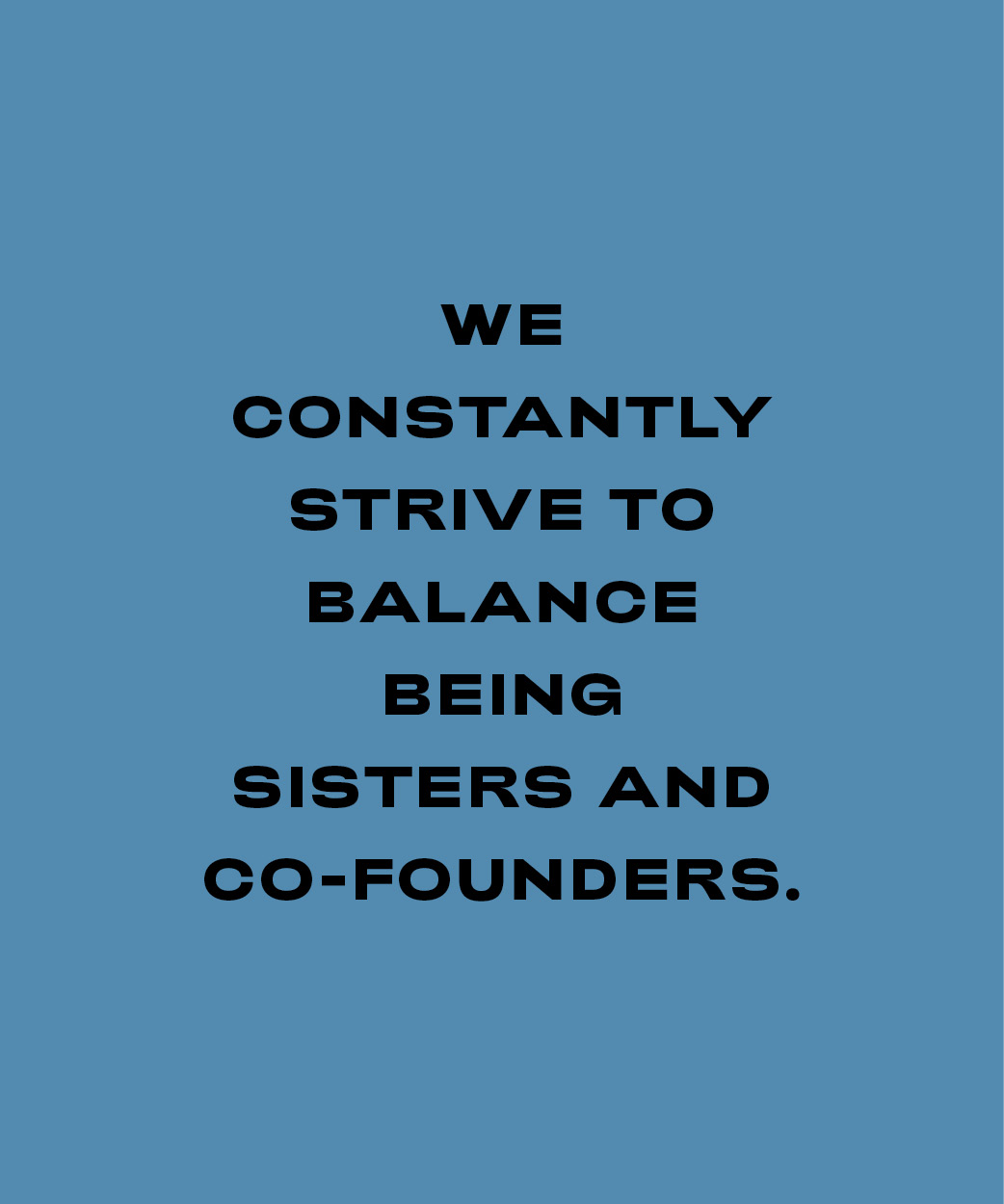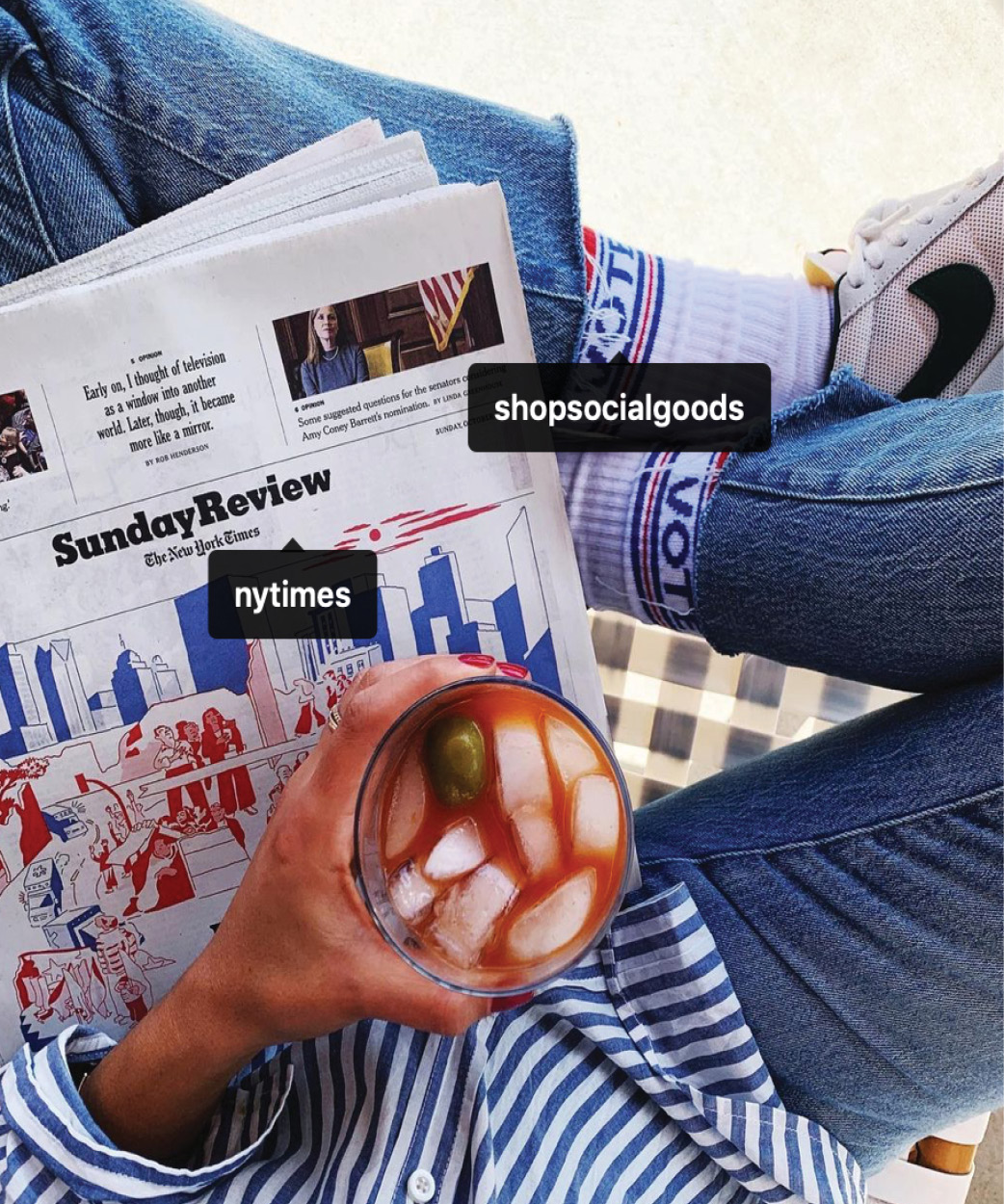 Quick + Salty
My Favorite Strap
KS: The Jack! It gives back to When We All Vote, an incredible organization helping people get ready to vote! LS: Well, Katie stole my answer, but my first strap, The Hazel, still remains my favorite!
In My Dreams, I'd Pair It With...
KS: A bright red Hermes Evelyne bag. LS: A timeless The Row structured bag.
But My Actual Everyday Bag...
KS: My Madewell Canvas Transport Tote. LS: A small Gucci crossbody.
The Inside Of My Bag
KS: Laptop, headphones, wallet, extra contacts and hair clips (recently mask and sanitizer!). LS: Keys, Wallet, Big Red gum, hand sanitizer, and extra kids masks!
I Stay Up Late With
KS: Schitt's Creek! LS: High Fidelity on Hulu—my favorite quarantine binge show.
My Beauty Security Blanket
KS: Joanna Vargas's Daily Serum LS: Laura Mercier tinted moisturizer with SPF
Transport Me, Please
KS: Rehoboth Beach, DE- it's my happy place LS: Jackson Hole, Wyoming
Uniform
KS: I wear my Vote Vote Vote mask daily! I'm also loving our new Speak Up Tie-Dye Hoodie that benefits The Jed Foundation's work on mental health with young adults and teens. LS: Zara long summer dresses (that I wear until it hits 50 degrees), Acne leather jacket and Freedom Moses sandals. Inevitably, when I am still cold, I add a prinkshop x Social Goods Global Citizen Hoodie. (I own them in every size.)
Girl Crush
KS: Beanie Feldstein! I love how she stands up for issues that matter to her in interviews and on social. LS: Erin and Sara Foster!
Karaoke Jam
KS: Recently: Simply the Best by Tina Turner. LS: Anything Alanis Morrisette
The Causes Close to To Our Hearts
KS: Women's equality! As Shirley Chisolm said, "If they don't give you a seat at the table, bring a folding chair." LS: Ending gun violence through common sense gun laws.
The Shakedown
The Jack Strap, The Hazel Strap, Hermes Evelyne Bag, The Row Bag, Madewell Transport Tote, Gucci Bag, Joanna Vargas Serum, Laura Mercier Tinted Moisturizer, Vote Vote Vote Mask, Speak Up Tie-Dye Hoodie, Zara Dresses, Acne Leather Jacket, Freedom Moses Sandals, Global Citizen hoodie, National Institute for Reproductive Health, Everytown