Ariel Gordon x The Mari
If you ask Ariel Gordon to describe her aesthetic, she'll tell you, "More is more." In truth, that philosophy also applies to her willingness to grow, evolve and collaborate. For the past 10 years, the jewelry designer's drive and ability to pivot—combined with her innate warmth—has kept her eponymous line on the pages of magazines and the necks, ears and wrists of everyone from celebrities to that chic woman on the street whose style you covet—you know the one. We sat down with this Salt Shaker and mother-of-two (little ones!) to talk embracing color, running a business and coping with mom guilt:
Q + A
Did you always know what you wanted to be when you grew up?
I always assumed I would be a teacher when I grew up. (I come from a family of educators). But I knew pretty early on that if I was going to work super hard, I wanted to be the one calling the shots. I sort of stumbled into jewelry when I was working as a publicist in Hollywood and found that industry be a bit morally vapid. I think the contrast between what I was doing and what I knew would actually make me happy was pretty stark. That compelled me to take the leap and pivot into something that would be more meaningful to me, that I could take ownership of. I knew that I wanted to start a company that I could build to a certain point that would also allow me the freedom to be present in my kids' lives. So, I went back to school and learned jewelry fabrication and metalsmithing. That was 10 years ago.
Overall, how would you describe your aesthetic, both in jewelry and in general?
I always say "more is more." A running joke with my friends is that I "junk it up" because I have a hard time not surrounding myself with things that I love. If you ever see me, I have on layers of necklaces, stacks of bracelets and rings, and I never, ever, shy away from a bright color or fun print. You can often find me wearing a simple white tee and some vintage jeans, but then I'll pair them with my rainbow Vans and a bright red lip. Color makes me happy. I've got my basic building blocks, but then I layer on fun accessories to make the look my own. It's why I design pieces that you can live in and never have to take off. I don't want my jewelry to be occasional. I want it to be a part of your everyday.
What continues to inspire your line?
I am inspired by my girlfriends and the everyday girls that I see on the street or around town, who manage to look casual, elegant, and chic without fashion closets or stylists to help them out. They are confident women who have their own sense of style while living on a real budget. They work, they are moms, they date, they travel. Necessity leads them to be creative and versatile.
In 2009, when you launched, many jewelry collections were popping up. Why do you think yours has endured so amazingly well?
It's been a challenge as the market has become so saturated, but I think it has to do with the timelessness of the pieces I've created and the incredibly supportive community I've cultivated. The women who have come to love AGJ are part of the story I'm telling and, because of them, I'm able to reach so many more people, keep the conversation alive and the brand thriving. I'm not so trend driven or seasonal, which gives the collection some real staying power. I'm also very business-minded. Being creative definitely does not equate with being a successful designer. Ninety-percent of what I do is run a small business, which requires a totally different skillset.
You only use conflict-free stones and are serious about vetting your vendors. Why is that important?
It's become common to outsource manufacturing, to send it overseas, and to care less and less about the working conditions where your product is made. I feel a sense of responsibility to support the local jewelry industry that has allowed me to grow my business. I won't sacrifice the integrity of my designs by using anything other than the best. That means only working with local artisans and vendors in downtown, LA, so I can visit often and be a part of every stage of the design and manufacturing process. It also means that, over time, we've developed these incredible relationships built on trust that I think allow me to have even more pride in what we're creating.
How has life as a designer changed since having children? Any advice to other entrepreneurial moms?
I can't say that I've quite figured it out, but I've certainly learned to be more nimble and adaptive. You're always going to feel torn in two directions—baby and business. Mom guilt is real. Whichever one you're doing, just commit to it in that moment. Otherwise, when you're at work, you won't be able to get things done efficiently because you're distracted by thoughts of the baby. Likewise, put the phone down when you're at home. I struggle with this, but I know that the email can wait. I want my kids to have my full attention when I'm with them. You're doing yourself a disservice if you try to do them both, simultaneously. Neither realm will live up to the standard you want. My work hours now are more flexible, so I can do my best to be there for school drop off and parent/teacher meetings. I'm lucky that my team is small and everyone is accommodating of my schedule. I've had to be patient because I just have so many things on my plate. And that's ok. I live up in the Bay Area now, so, a lot of my professional life entails flying back and forth to LA, almost weekly. That's been the biggest change since having kids and making this big move. The hardest part is being away from the kids, but, when I'm in LA, it's head down on work, which can also be nice.
If you had to pick, what is the ONE piece of jewelry that you would wear every single day? (We know how hard it is to choose!)
I'm partial to my Imperial Disc pendant because it has both of my kids' names engraved on it and sits close to my heart. It's nice to have that on each day as a reminder.
You do lots of amazing collaborations and are always evolving. Do you have launched anything new recently?
As a way to mark my 10 year anniversary, I'm really excited to be launching a capsule of vintage and estate jewelry that I've been sourcing over the last few years—a way for me to honor the heritage of the industry that I'm lucky to be a part of. Stay tuned!
If you could offer one piece of advice to your teen/young adult self, what would it be?
I am the captain of my ship. If I don't like my course, I can change it.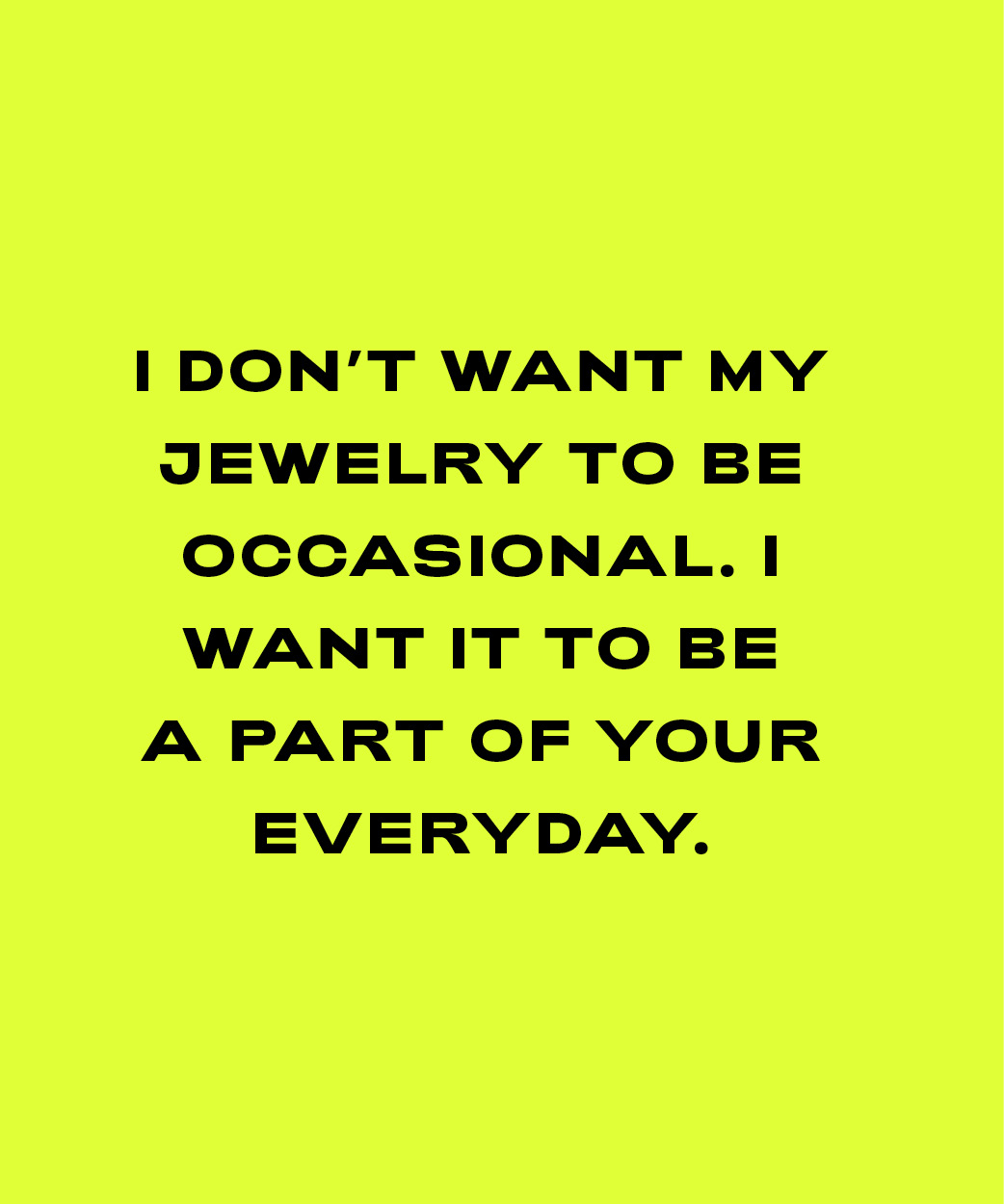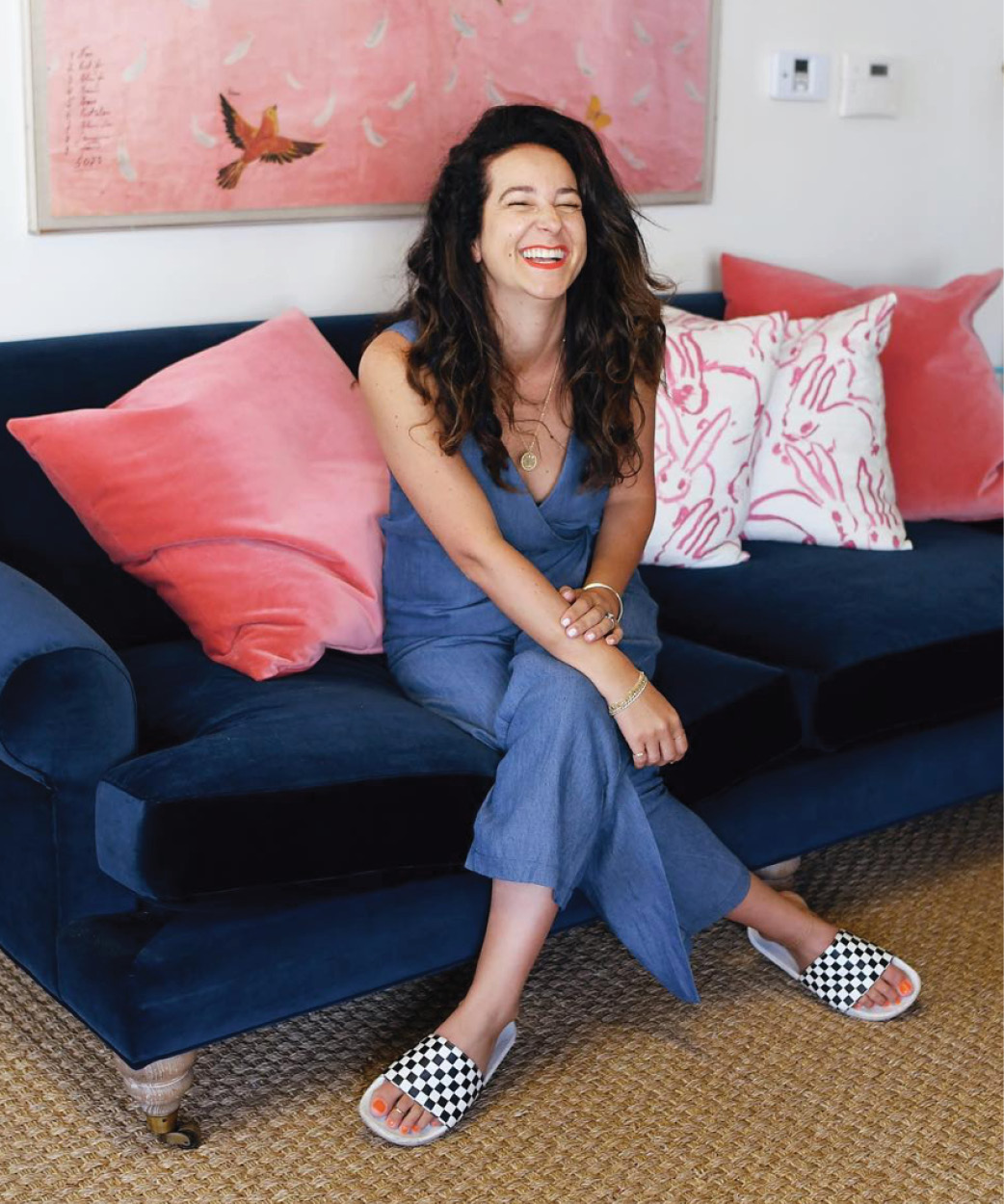 Quick + Salty
My Favorite Strap
The Mari (love the color combos!)
In My Dreams, I'd Pair It With...
Celine Bucket Bag
But My Actual Everyday Bag...
A blushy lilac Bottega Veneta crossbody or a sunny yellow Celine tote, if I need something roomier.
The Inside Of My Bag
Sea of pouches organizing things.
I Stay Up Late With
Reading the news and it freaks me out, then I can't sleep.
My Beauty Security Blanket
Maybeline Superstay Matte Lipstick in Heroine.
Transport Me, Please
To late night walks down Paris cobblestone streets or digging through antique markets in Tokyo.
Uniform
I'm a jeans and t-shirt girl. (My go-to is Citizens of Humanity Jeans + Re/doneTee, paired with rainbow check Vans.) I also love a fun printed frock. Lately, I've been buying some nice flowy (slightly muumuu) dresses from India on Ebay. Perfect for chasing kids in the summer.
Girl Crush
Karla Welch
Karaoke Jam
Drunk in Love - Beyonce.
Celeb Lookalike
Ummm. Not sure!
The Cause Close To My Heart
I've gone on a few trips down to Mexico with This is About Humanity, helping families who have been detained or separated at the border.