April Uchitel x The Duke
April Uchitel knows a thing or two about running the show. Before landing in her current role, the CEO of Violet Grey (a curated content and commerce beauty company from Hollywood insiders) propelled herself from a Boulder, CO retail job to positions as EVP of global sales for Diane von Furstenberg and chief brand officer for digital shopping destination, Spring. This mother-of-two and born connector sets the standard for running—and growing—a female-owned and women-led business. Always radiating positivity, she's an incredible role model (and not just because she has the best hair we've ever seen!). Here, we chatted with April about goals, guilty pleasures and her signature red lip:
Q + A
What are you passionate about right now, tell us about it.
I am passionate about making an impact. About doing something every day that supports, helps, inspires, encourages, entertains or enlightens others.
What is your ultimate goal for Violet Grey?
To apply my unique skill set and collaborate with the visionary founder Cassandra Grey and help her realize her standard setting vision, and ultimately build a world class brand. Additionally my goal is to also develop a unique culture that attracts best in class talent and partnerships.
We were so inspired by the IAMVOTER campaign which you were heavily involved in. Tell us about it.
IAMAVOTER is a public awareness campaign that aims to create a cultural shift around voting. At IAAV we are determined to make voting COOL! It is the brainchild of Mandana Dayani and a group of amazing humans who volunteer their time and talent and relationships to engage and inspire the newest generation of voters. I jumped in to help reach the Fashion community at NYFW in 2018, and at VIOLET GREY we produced an amazing campaign (shot by my super talented husband Diego) where 13 high profile women shared the reasons what they vote. So many incredible brands, companies and influential people have contributed - and we are already hard at work laying the groundwork for 2020!
You have worked at all the cool companies when they were in the spotlight. What are you most proud of achieving at work?
I am most proud of the incredible brand community that I curated and developed, and the long term relationships I built from SPRING. I personally worked with well over 1200 brands and contributed immensely to building a unique platform that provided brand partners with real value. Along the way we educated the marketplace and paved the way for other tech/integration platforms to thrive.
Any advice for future Girl Bosses of the world?
My best advice is to realize there is no finish line. That your journey should have ups and down and rewards and setbacks as all those experiences will help you determine the boss you want to be. Remember to play the long game!
With the best beauty essentials at your fingertips what are the top 5 beauty products you can't live without?
Augustinus Bader The Cream, Dr Barbara Sturm Hyaluronic Serum, Bioderma MU remover, Royal Fern cleanser, and NARS Cruella for my signature red lip!
What is your biggest guilty pleasure?
I tend to go out a few nights a week to work events, seeing friends who are in town from NYC (seems to be every week!) so my guilty pleasure is staying home ( and in) on the weekend and staying in my PJ's all day!
As a working mother of two what is your secret to keeping it all together and still finding time to travel on all these amazing family adventures we see on Instagram?
We moved to LA from NYC last July and got a SPRINTER van (my husbands dream!). It has been so fun to hop in the van (sleeps 4) and explore the gorgeous coastline. The kids are finally old enough where they can appreciate global travel and so we started taking bigger trips (Morocco, Madrid) last year and take advantage of the fleeting time together as they are growing so fast!!
As a LA transplant what is it you miss about New York City?
I miss the community I had there. My kids were raised in Tribeca and the families and friends and neighbors we had there were so special. I also really miss the street run ins that just don't happen in the sprawl of Los Angeles where everyone is in a car.
When did you start wearing the signature red lip? What is your color and brand of choice? Lip liner or straight up?
After I left DVF (in 2011) we took a nearly 2 year sabbatical and moved upstate into our country house near Woodstock. I was slightly terrified I would start wearing my PJ's to drop off and stop making an effort on the days I was not going into the city for consulting work. So I started putting on a strong red lip to ensure I was pulled together at all times. I got so many compliments that I never looked back! At this point it is second nature - like putting on my shoes - I even wear it to YOGA! I love NARS Cruella jumbo lip crayon, MAC retro matte liquid lip color, and FENTY Beauty stunna lip paint. The liquid lips are the best as they go on wet and immediately dry matte. I just reapply all day long (then scrub them off at night!)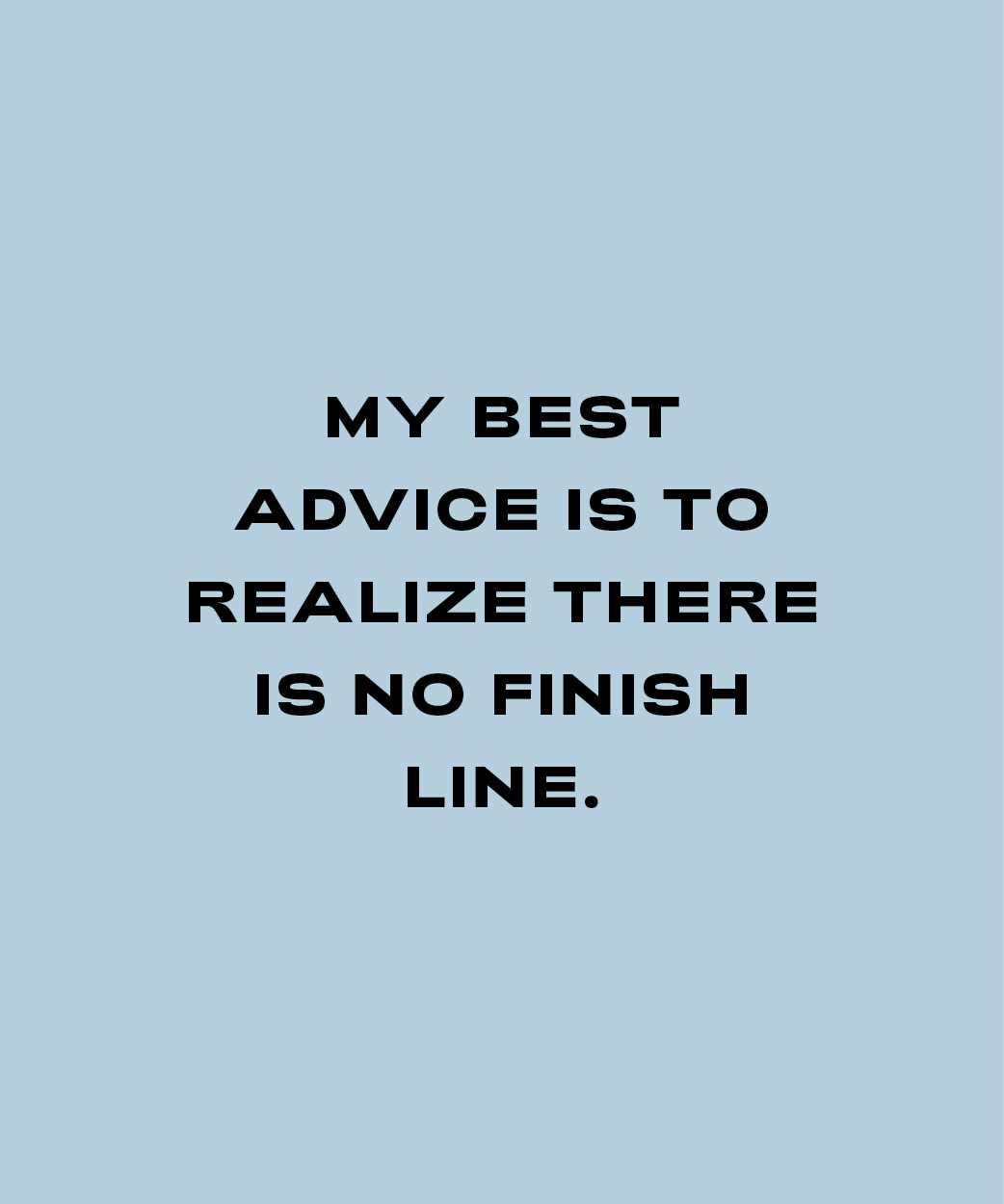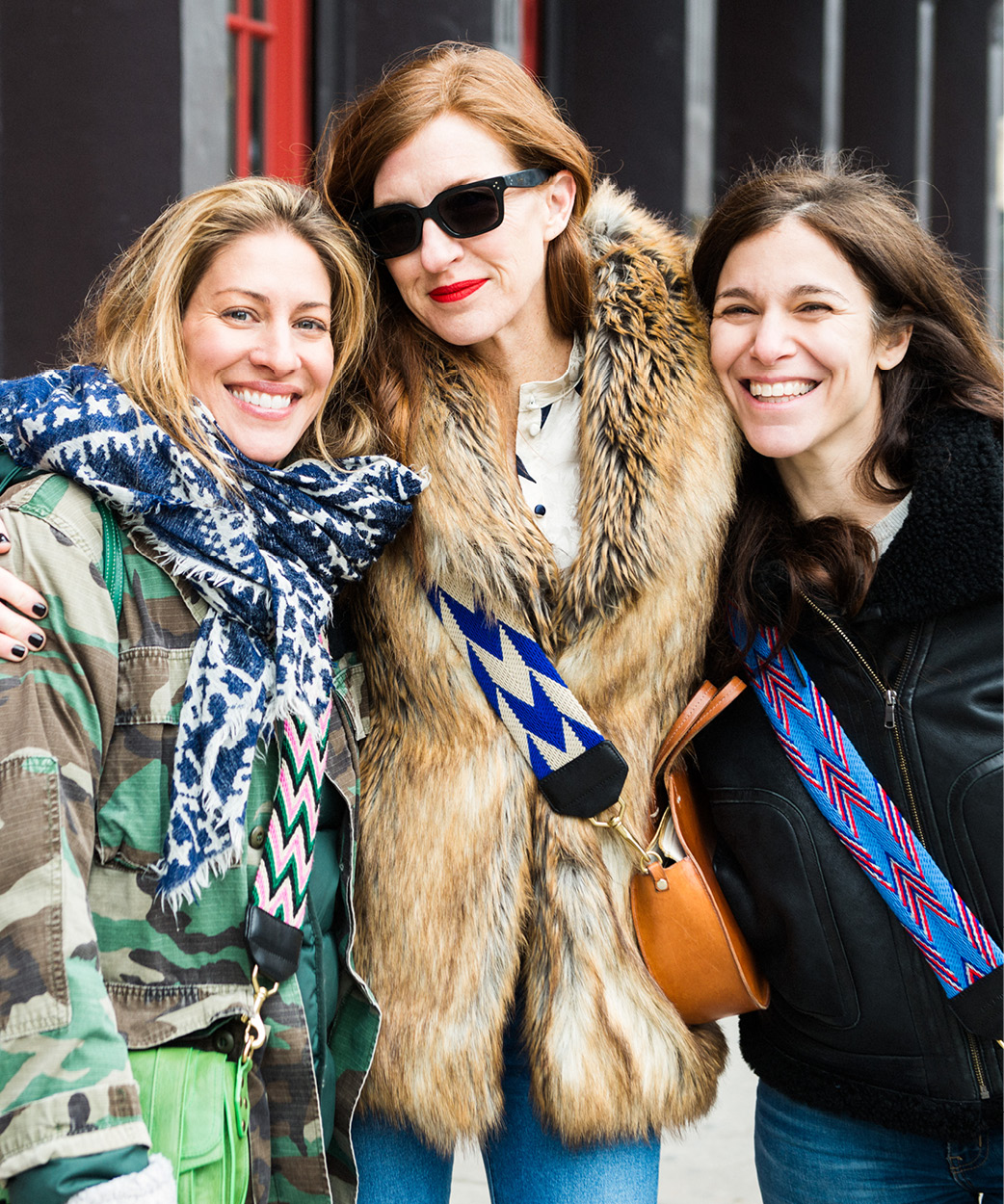 Quick + Salty
Favorite Strap
The Duke
In My Dreams, I'd Pair It With
my new Clare V. petite Alice tote
But May Actual Everyday Bag ...
My Monogrammed GOYARD tote given to me last Mother's Day (after years of asking :))
The Inside Of My Bag In 5 Words
Most things have a purpose.
I Stay Up Late With
Becoming by Michelle Obama
My Beauty Security Blanket
anything Augustinus Bader
Transport Me, Please
to Morocco! Back to glamping, camel riding, and belly dancing under the stars!
Uniform
Currently obsessed with CQY long legged Flare Jeans ! THEY ARE BAAACK!
Girl Crush
Julia Roberts
Karaoke Jam
No Karaoke
Celeb Lookalike
Jenna Lyons - over and over when I lived in NYC - many people would come up to me at fashion events and say "I am your biggest fan!" When I told Jenna she suggested that I take selfies with everyone who thinks I am her and send it to her.... (it's the glasses).
The Cause Closest To My Heart
IAMAVOTER!
The Shakedown
Violet Grey, IAMAVOTER, NARS Cruella Jumbo Lip Crayon, MAC Retro Matte Liquid Lipcolor, FENTY Beauty Stunna Lip Paint, Augustinus Bader The Cream, Dr Barbara Sturm Hyaluronic Serum, Bioderma MU remover, Royal Fern cleanser, Petite Yves Durif Hairbrush, Clare V. Petite Alice Tote, CQY long legged Flare jeans, Monogrammed Goyard Tote