Melissa Akkaway x The Duke
Melissa Akkaway has fashion in her DNA—literally. Now, the former designer and has launched The Particulars, an online destination for all things accessories with herself as enthusiastic model and guinea pig.
Here, she sits down with us (from a distance, of course) to talk LA's style evolution, pandemic uniforms and why accessories hold a special place in her heart.
Q + A
Can you tell us a bit about your family legacy in retail and fashion and what it was like to grow up surrounded by those influences?
We have a long family history that is rooted in retail…and loving and shopping for clothing is truly a part of our DNA. My grandmother owned and operated retail businesses and I was always inspired by her. I think I just channeled all of that knowledge from being surround by the industry and the lessons that I learned became part of how I operated my retail business ventures. But on the most basic of levels, I am a child of the 80s! It was a wild time for fashion (especially in Vegas!) and I just really absorbed it all—clearly, I love big accessories and don't shy away from color or pattern.
You owned super popular/respected retail shops in LA during a kind of fashion heyday there, when the city's emerging designers began to command a lot of respect. How has LA's place in the fashion world changed over time? What is LA style?
It really was the heyday, wasn't it? It was before social media so all we had were celebs strolling the streets and being mobbed by paparazzi. It was outrageous!! We would all wait for the weeklies to come out and see if Beckley (my store) was caught in the frames. It seems so innocent looking back on it. I think that LA has always had a certain fashion feel and influence. It's partly the weather, it's partly the laid-back lifestyle, and just the general unfussiness of it all. People prioritize comfort here as well kind of clothing can move with them. People are active! They are walking, running, hiking, going to the beach—they generally want easy things during the daytime and something more pulled together at night. Style has definitely shifted since the bandage dress days of the early aughts, but the constant is that local LA designers and even designers that have fled here from NY, find inspiration in the city and cultivate their lines to reflect that.
You launched The Particulars specifically with accessories in mind. Obviously, accessories are near and dear to our hearts. What made you decide to focus that way?
Accessories hold so many memories for us. They are the most personal things that we put on or keep on every day…especially jewelry. I like to think of accessories as talismans, little symbols that we can wear that give us calm or strength or love. Plus, accessories are the easiest way to change and amp up a look. You can look totally plain but then throw on an amazing pair of sunglasses, bag, a SALT strap, or shoes and really make the grade. It does not always have to be designer, it does not always have to be expensive, it just has to suit YOU.
How have you noticed style and fashion interests shifting since this pandemic started?
Well, I don't think I have to state the obvious, but I think that people are caring about and craving comfort these days. They want to feel insulated and cozy, that was definitely the mood at the beginning. But as summer has been here, people have come out of their cocoons a bit more and perhaps thrown on a dress or a bit of makeup to venture out. Just to feel a sense of normalcy.
What is the item (or designer/line) that you're most obsessed with or coveting right now? (Cause we're pretty sure we'll want one!)
With so much time at home, I have been living in my Aviator Nation matching sweatsuits, my easy comfy Rachel Pally dresses and of course my Birkenstocks.
What's one item, outfit or trend that you full embraced that you look back on now and feel totally mortified—or wish you still owned/could bring back?
In college, I had these wide leg navy blue sweatpants from Urban Outfitters that I thought were so cool but looking back they were so sloppy but I wore them ALL the time!
Even as a mother-of-two, you've managed to stay super fit and styled in the midst of this crazy time. What's your parenthood hack for staying sane and finding balance in this unprecedented moment?
I truly love to move and find that movement is the only way to keep my sanity, especially these days. I was a college athlete and ran track so running has always been a mainstay in my life. But as I have gotten older and had kids, I really mix it up a lot. I train with Amy Roseoff Davis who I love and during non-pandemic times, I also work out at Tracy Anderson. I also hop in the pool with my kids, run, walk, hike, bike, jump rope, and generally, just get outside. I am so lucky I live by the beach and really take advantage of being active on a daily basis. Plus, having 2 boys and a husband that surfs regularly really forces me to get my tush in gear!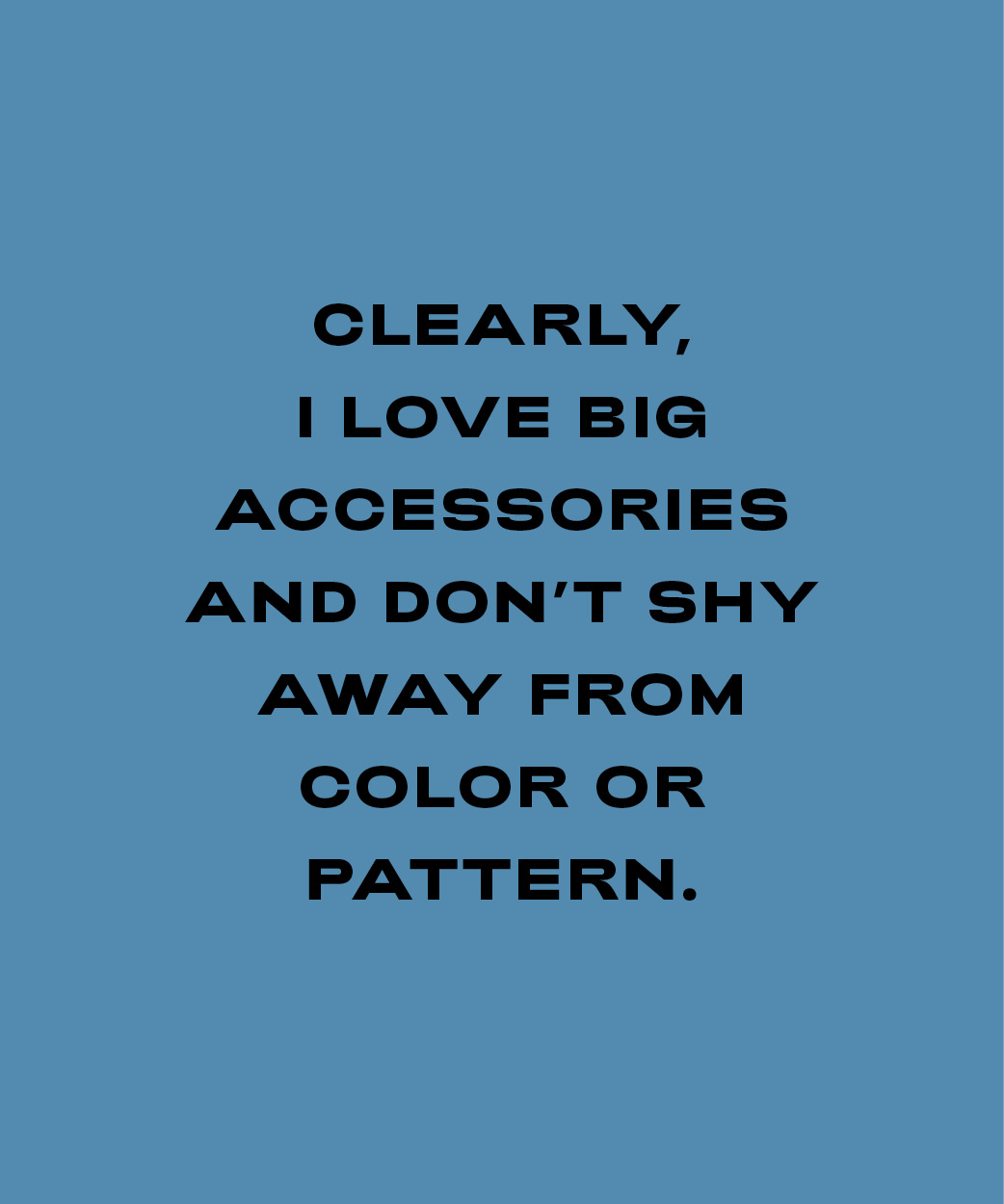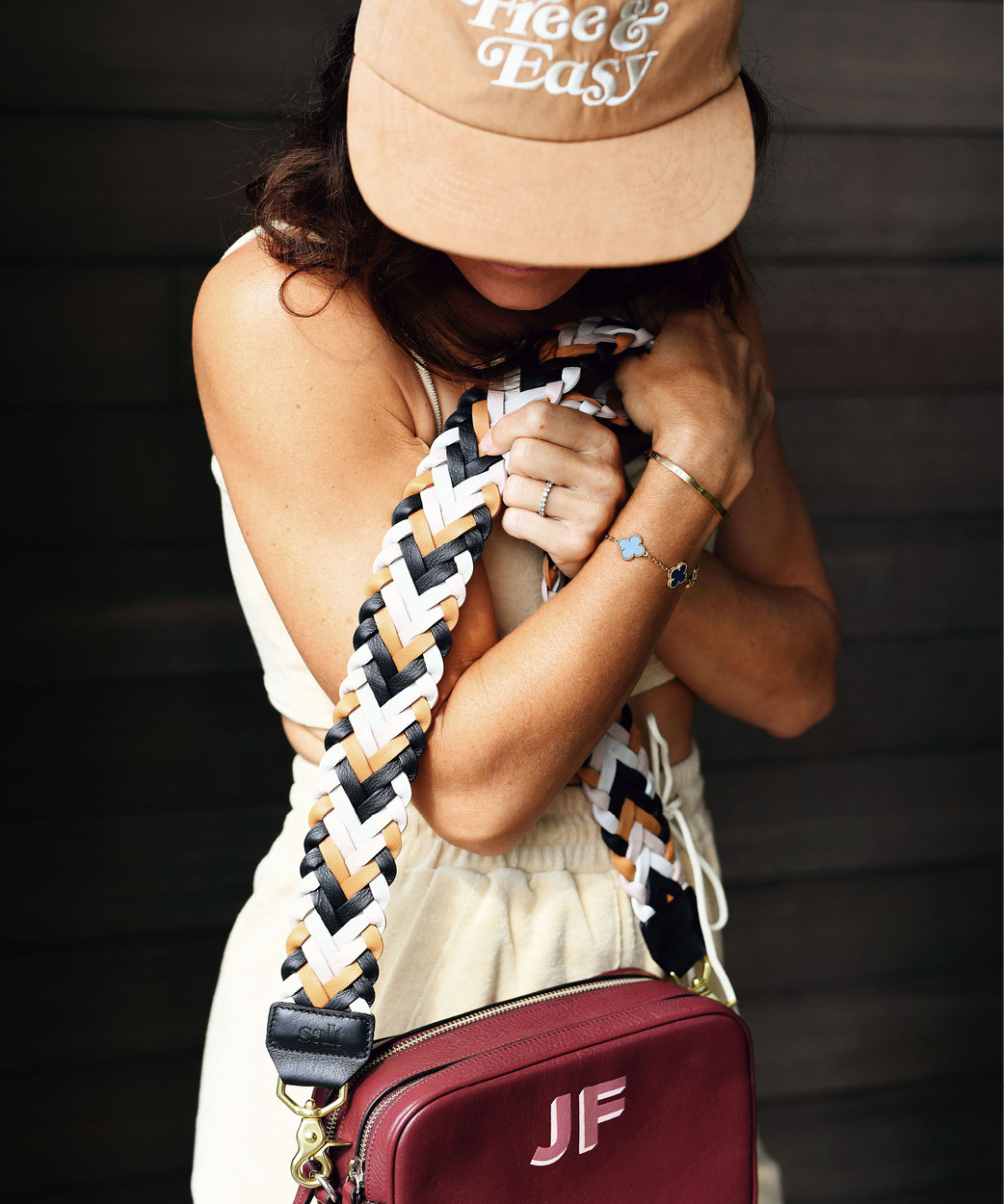 Quick + Salty
My Favorite Strap
The Duke, and the Jack (it's my son's name so I'm partial:)
In My Dreams I'd Pair It With
High waisted Mother Jeans, a Chanel Jacket and Janessa Leone Hat.
But My Actual Everyday Bag...
Lately, its been my Patagonia Fanny Pack and Goyard Tote.
The Inside Of My Bag
Pouches inside of pouches.
I Stay Up Late
My husband watching every Netflix show we can consume.
My Beauty Security Blanket
Nousha Face Oil
Transport Me Please To...
The Italian Coastline 
Uniform
Currently, bright Summer loose dresses from Rachel Pally or from Frankies Shop and of course my Aviator Nation sweats.
Girl Crush
Zoe Kravitz
Karaoke Jam
"The Middle" by Marin Morris
Celeb Lookalike
Demi Moore, Sarah Jessica Parker and Kate Middleton (which I don't mind at all)
The Causes Closest To My Heart
Make A Wish Foundation and Baby 2 Baby.
The Shakedown
The Particulars, The Jack Strap, Patagonia fanny pack, Goyard tote, Mother denim, Chanel jacket, Janessa Leone hat, Nousha face oil, Rachel Pally, Frankies Shop Aviator Nation Sweats, Make a Wish Foundation Baby2Baby