Cayli Cavako Reck x The Zoe
Meet Cayli Cavaco Reck -- she's been the kind of person who friends come to with problems from haircut disasters to major parenting and career conundrums. And, now, she's available to women everywhere via her beauty boutique and bespoke skincare consultancy, Knockout Beauty.
Here, we sat down to talk about her current beauty musts and the concept of slow aging:
Q + A
You're the daughter of two onetime Vogue editors and NY Magazine says you kickstarted the Amazon jacket trend. You literally have fashion in your DNA. Can you describe your upbringing? How did it influence your own style and interests? And is that rumor true?
My parents are oozing with style, so I may have inherited a small bit of that. I was born and raised on set. When I was a teenager I spent a lot time with my dad on location with the style stars of the moment. All the single name girls, Kate, Linda, Christy, Naomi, Amber. Amber and Kate always had great army jackets. I now have a collection of them and the Amazon jacket is sort of an extension of that look.
Did you always know what you wanted to be when you grew up or has that evolved over time? What ultimately led you to launch Knockout Beauty and how did you know where to start?
I wanted to be a maid when I was little. I have always loved to clean, organize, and vacuum. I was raised on a macrobiotic diet and using brands like Dr. Hauschka, Weleda, and Dr Bronners, so I think thats where the conscious piece of the business began. Interestingly however I always loved playing store. To be honest I just wanted to operate a cash register. Knockout Beauty was an evolution of my instagram, Knocking On Forty. I am a natural strategist and had made a living as a brand strategist for many years before I opened Knockout Beauty so the road map was very clear to me in part because I had worked on many store activations. My mother would often say you need to start at the beginning and what I have learned over time is that wherever you start is the beginning. The hardest part of starting is: starting! I had to remove the idea that there is a specific place to start. What needs to happens begins to reveal itself. The trick is to remain nimble and not be too proud to course correct.
Your store is so perfectly curated. We want everything! What factors dictate what does or doesn't make the cut?
The products MUST work. Beauty is not regulated in the US so for me to bring anything to my clients the product needs to live up to its promise. I always consider if the product is clean or conscious. That's my criteria. With the world of beauty at your fingertips, what are the beauty products you currently can't live without? B3 Toner Environ Dermaroller MZ Depuff and Define Eye Treatment Zlip
You initially launched Knocking on Forty, which quickly built a following. How would you describe your philosophy on beauty and aging? What is the single best piece of advice you've gotten about aging gracefully and from whom?
I want to age. I want to live a long, interesting, impactful life and I would like to remain looking like myself for as long as possible. I don't want to look like someone else, I just want look like the best version of myself. I have never believed in anti-aging, I believe in slow aging. To me this means keeping the blood flowing, the lymphatic system active, and protecting my body and skin with supplements and sunscreen. My friend Teresa Lawsky who is the CEO of The Laurus Project talks a lot about health span as much as longevity. With that said we need to be mindful of what we put in and on our bodies because we have the power to alter the outcome. This is not our belief, this is Epigenetics.
What was your first memorable handbag? Is there a story behind how you chose, received or wore it—or how you see it now?
When I was 10 Susie Hilfiger gave me a tiny, red, jersey, Chanel bag. My parents made me return it to her and then she sent it back to me. My mother always wore Chanel so Susie thought I should be like my mama.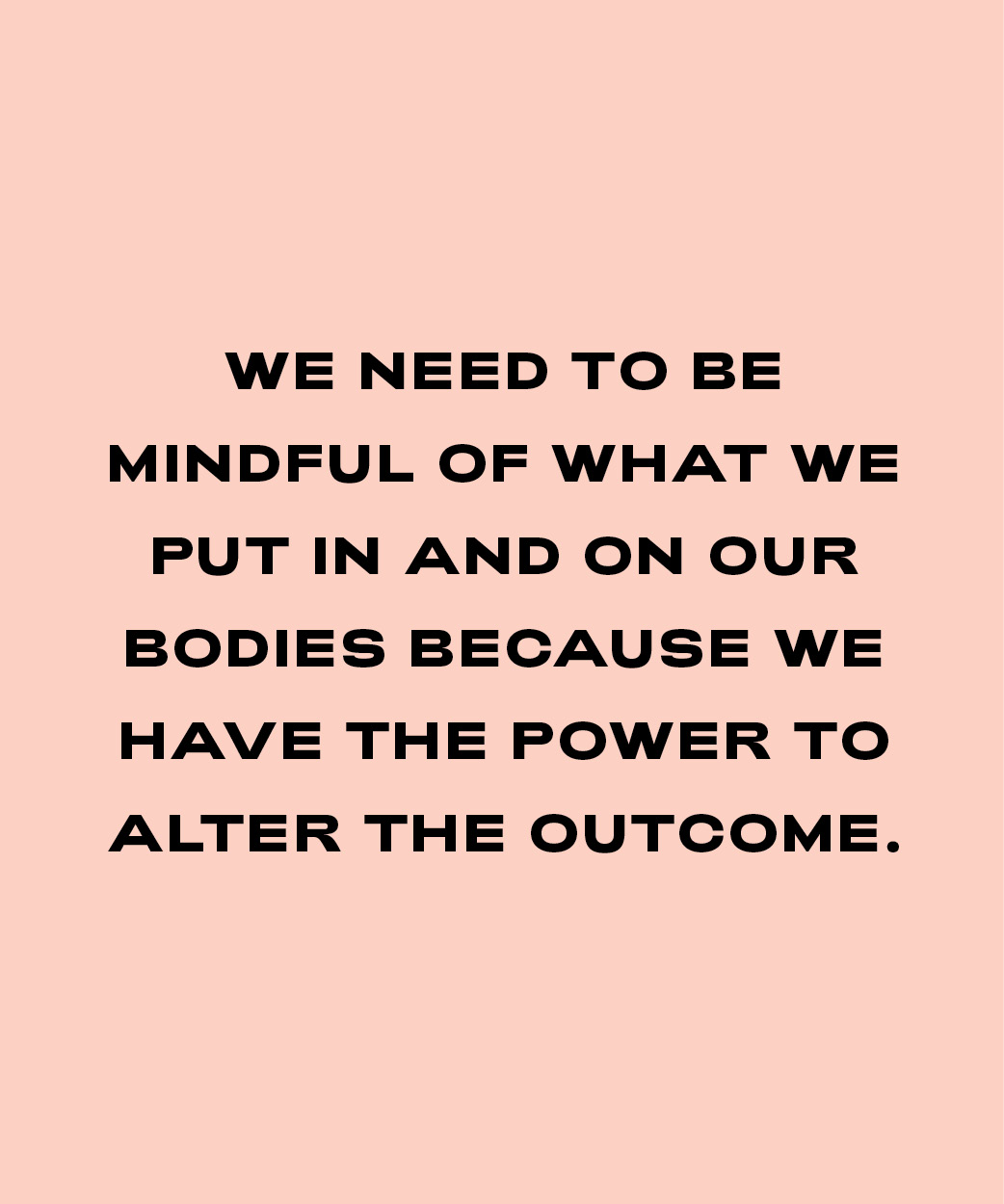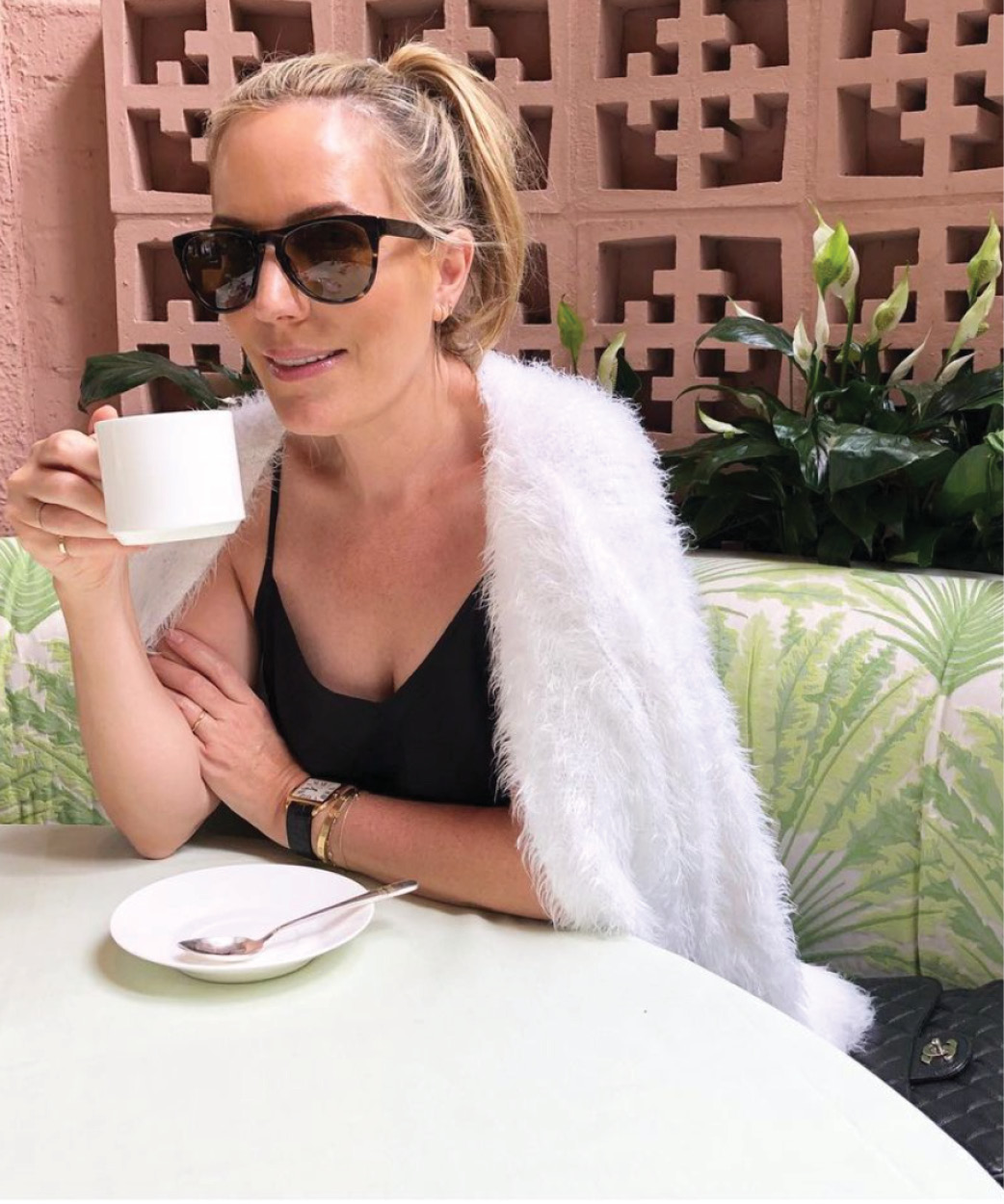 Quick + Salty
My Favorite Strap
The Zoe
In My Dreams, I'd Pair It With
I don't have one! What I love about my Salt strap is that I don't have to commit to a bag.
But My Actual Everyday Bag...
I carry a different bag every day!
The Inside Of My Bag
Sunglasses, vitamins, sunscreen, wallet, phone
I Stay Up Late With
Google Scholar.
Beauty Security Blanket
Jouer Concealer, I wear it in Macadamia.
Transport Me, Please
to Cuixmala, Mexico
Uniform
my Veja sneakers they are comfortable and conscious, which of course I love.
Recently I'm Girl Crushing On
Brené Brown
Karaoke Jam
Don't Go Breaking My Heart
Celeb Lookalike
When I was younger people would tell me that I looked like Molly Sims.
The Cause Close To My Heart
The Laurus Project
The Shakedown
The Zoe Strap, Knocking On Forty, Knockout Beauty, Jouer concealer, B3 Toner, Veja sneakers, Environ Dermaroller, Evenswiss Rich Cream, MZ Depuff and Define eye treatment, Ziip, The Laurus Project