Erica Rosenfeld x the Sylvia
Salt Shaker / Artist / Foodie
Meet Erica Rosenfeld, co-founder of Burnt Asphalt Family, a performative art collective that constructs glass sculptures in a vivid country-crossing art show.
We sat down with this boundlessly creative NYC-native to learn about her work, advice on inspiration, and hip hop's heyday.
Q + A
What Attracted You To Glass Blowing? Is It Physically Demanding?
I found glass in the late '90s. I wanted to incorporate it into my work and took a class at Urban Glass in Brooklyn. I was immediately drawn to the culture, community and physicality of glass—I fell in love. All glass techniques can be physically challenging. I find that aspect of the process very grounding.
Can You Explain How You Incorporate Cooking Food Into Your Glass Blowing Practice? It's Brilliant! How Did That Start?
In 2007, I co-founded an artist collective called the Burnt Asphalt Family with five close friends. We began by cooking food for people with 2,000-degree glass in a hot shop— and served them. We cooked meals based on post-war era rituals that were meant to bring families closer together (BBQ, TV dinner, turkey dinner and cocktail party). Over time, we have evolved into a group of over 30 artists, designers, glass fabricators and chefs, who make community-centric participatory art that is a hybrid of a dinner party, interactive installation, edible art and a happening. We still cook food in glass sometimes, but are more interested in building large-scale installations made from food, blown glass, neon and found objects that the audience can deconstruct and eat. We think that the glass studio and the dinner table are both metaphors for community. Who sits around your table is a marker of who your friends and family are. Food and glass can also be a kind of storytelling. They both talk about history, culture, ritual, tradition, design and memory. This is one of my favorite things to do in my art practice.
If You Had To Synthesize It Down To A Fundamental Concept, What First Inspired Your Artwork And What Drives It Today?
I'm really drawn to art that expresses time and ritual and conveys a history. I have always been a collector, a "hoarder," a gatherer and also find obsessive labor and domestic rituals very grounding. This all really informs my work.
Do You Work To A Soundtrack? If So, What Are You Listening To Right Now?
Hip-hop and '60s soul music are my favorite genres to listen to while working. I find both very motivating. Anything by the Wu-Tang Clan or any of their offshoots. BTW— only hip-hop before 1996. I don't really think it exists after that period.
How Do You Think Growing Up In NYC Impacted Your Artistic Perspective?
Growing up in NYC was an awesome experience. The exposure to the wide spectrum of art, food, architecture and people without a doubt led me to where I am today as an artist. I moved to Brooklyn in 1999. I find living here to be very inspiring and can't imagine being anywhere else.
If You Weren't An Artist, What Would You Be?
I knew that I was an artist since I was 4, when my best friend's mother told me that was what I would do with my life. I've never thought of doing anything else. But, if I had to do anything else, I can imagine that I would want to be a chef.
Can You Tell Us About An Artist Who You Love Right Now, Who You Think Everyone Should Know More About?
I have been obsessed with Tara Donovan's work for about a decade. She uses found materials to make giant installations that envelope the viewer. She also challenges our perception of the function of material. My other favorite is my best friend and collaborator in the Burnt Asphalt Family, Jessica Jane Julius. She is like the Beyoncé of the glass world. She is a successful artist, professor and mother—pretty badass.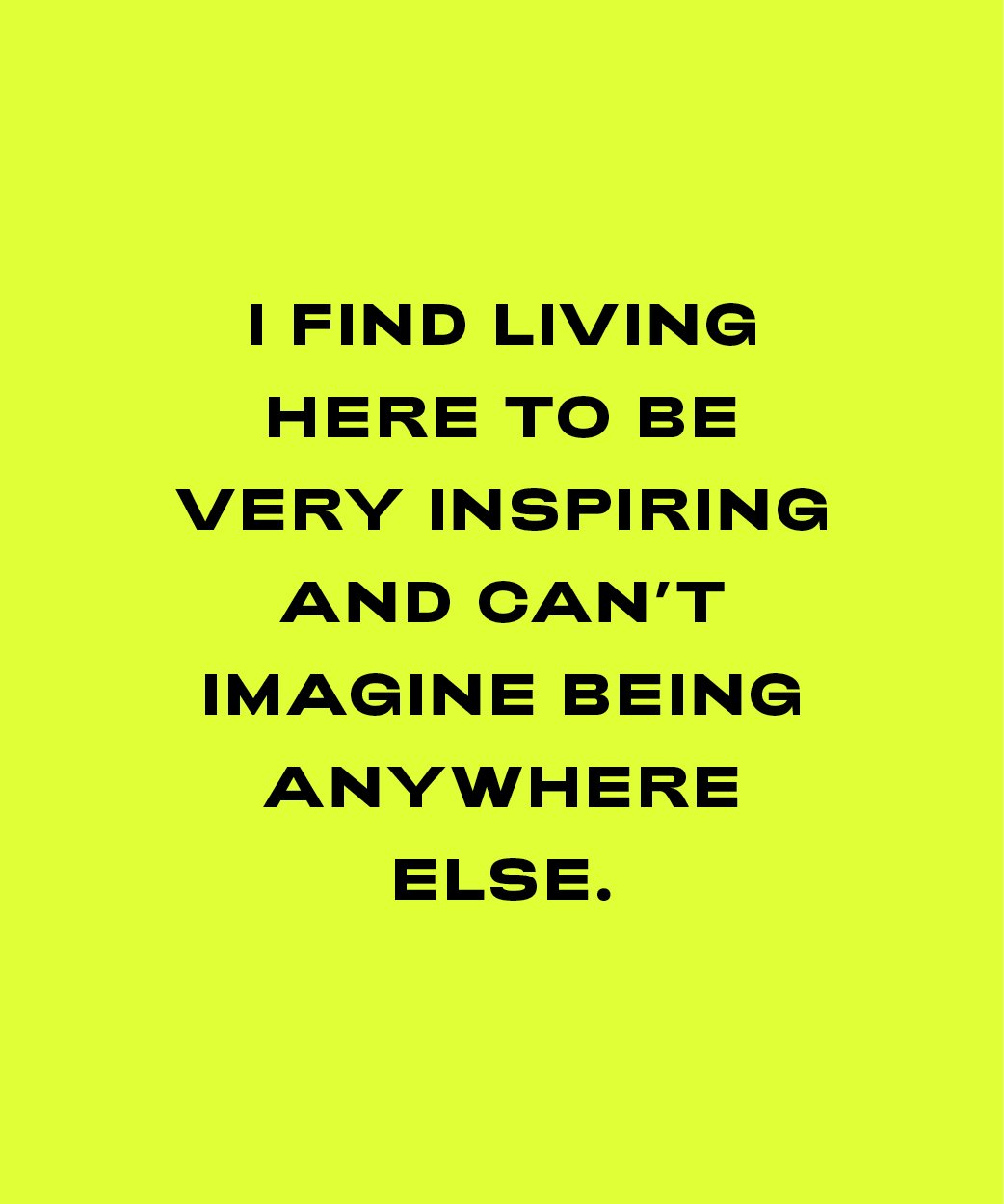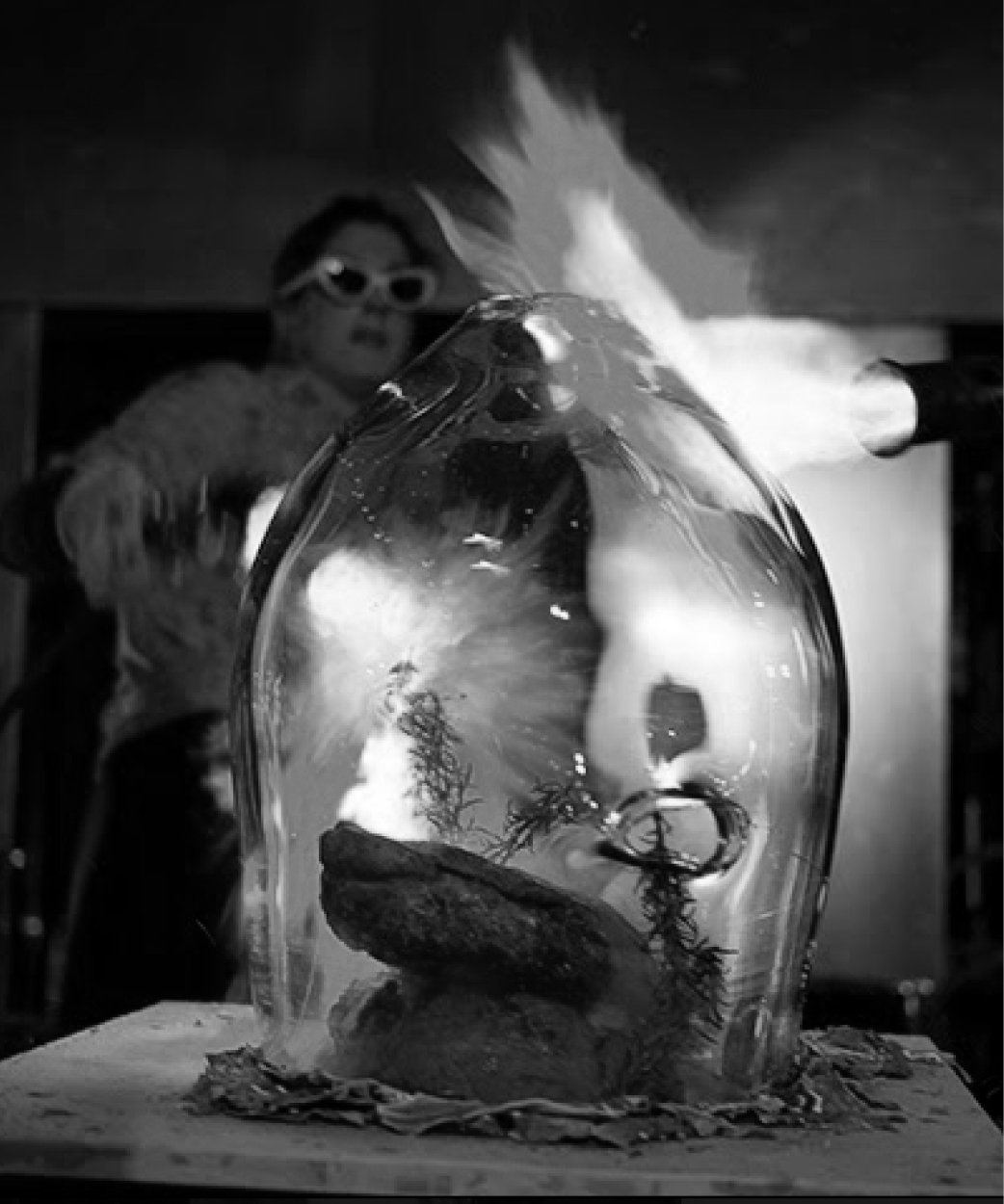 Quick + Salty
My Favorite Strap
The Sylvia.
In My Dreams, I'd Pair It With
A black leather vintage bag I bought at a flea market 10 years ago in Berlin.
But My Actual Everyday Bag...
A tote bag I designed with a paint-by- numbers painting that I made.
The Inside Of My Bag
Phone, list for the day, cigarettes, wallet, Tic Tacs.
My Beauty Security Blanket
Vitamin C serum by Heladerm.
Transport Me, Please
New Orleans to hear music, eat everything, see art, shop at vintage stores and take a much-needed vacay with my boyfriend.
Uniform
Shirt by Noo Works in California. They have amazing and bold-patterned fabric and great cuts for women. I like to tuck them into high- waisted jeans.
Girl Crush
LADY GAGA AT THE MET BALL! And Lady Gaga at the Oscars singing with Bradley!
Karaoke Jam
You're So Vain - Carly Simon
Celeb Lookalike
Drew Barrymore (just from the nose down). People have been telling me that since 4th grade.
The Cause Closest To My Heart
Women's reproductive rights and getting a new president.
The Shakedown
Erica Rosenfeld, The Sylvia, The Heller Gallery, Erica's most recent show, Burnt Asphalt Family, Heladerm Vitamin C Serum, Noo Works Shirt