Nora Zelevansky x The Annabelle
Nora Zelevansky's first love was words. That fact—combined with an impulse to plumb the depths of the people she meets—made her an ideal candidate for journalism. In her time as a freelance lifestyle writer in LA and NYC, she's covered fashion, beauty, wellness, design, travel and cultural phenomena for publications including ELLE, Vanity Fair, The New York Times Magazine, WSJ, Town & Country, The Los Angeles Times and Travel + Leisure. Currently, she is also the editorial director at style-driven wellness site, Live The Process, and a go-to brand writer, editor and language strategist for some of today's most relevant emergent and established companies, helping them develop a cohesive and charismatic voice. Nora is the author of two novels, Semi-Charmed Life and Will You Won't You Want Me?. Today, we flipped the script on this mother-of two, asking her the questions:
Q + A
As a journalist, what was the most luxurious spa destination you ever had to "research" for a piece? What were some details that made it a cut above the rest?
Ooh. That's hard. But maybe the pinnacle (or at least one pinnacle) was at Mulia Villas in Bali. Before treatments at the spa, I was hanging in their plunge pool—which was filled with these floating frangipani flowers that smell like heaven—and I looked up to see a circular rainbow around the sun. It was insane! So, sometimes it's about the location. That said, I was just at Cala de Mar in Ixtapa, which is all windowed and set on a cliff overlooking the sparkling ocean. And, at the end of this incredible body treatment, I sat up and saw this amazing sunset. I slipped on one of their super cozy robes and sat and drank chocolate tea and watched the sun go down. It was pretty special. (They also have a temazcal, which is like a sweat lodge, where a shaman leads purifying ceremonies.) So, sometimes it's about a combination of thoughtful factors. I could go on and on...and just did.
We LOVED your first two novels Semi-Charmed Life and Will You Won't You Want Me? How did your writing process change from your first novel to your second ? Do you have any writing rituals you swear by to keep the inspiration flowing?
Thank you, guys! Well, I wrote the first novel on sort of a whim (which I realize sounds a bit flippant). I had always written nonfiction and I just felt compelled to try to write something outside the constraints of specific magazines. I had no idea if it would come out at all. So, I stuck really strictly to National Novel Writing Month rules (which basically means I wrote 1,700 words a day for a month and never stopped or edited). For "Will You Won't You Want Me," I was less structured. That's partially because it was my second time around and partially because I had a daughter and didn't have the luxury of being precious with habits. I had to take the time where I could. When I start a book, I still always write a ton for a concentrated period at the beginning because I'm so relieved once I have a draft done! Other rituals? I tend to get up and open my fridge 800 times and never take anything out. It's like a tick. If I'm writing at a restaurant, I drink herbal iced tea and eat vegan muffins.
You're a native New Yorker, relocated to LA for 15 years and now you are back. Describe your feelings about LA vs NY in an ultimate Nora one liner.
People always compare the two places, but I think they actually have nothing in common besides the crew of people who move through them. One's strength is the other's weakness. NYC is about stimulation. LA is about comfort. In LA, I miss a kind of spontaneity. In NYC, I miss nice public restrooms. What is the deal with swanky restaurants with repulsive closet holes for bathrooms? I will never understand. I want to shoot a PSA for the whole Lower East Side. Anyway, I think LA and NYC are both amazing and now I'm ruined for both because I always miss one. Sorry. That was not a one-liner.
If you could give your 20-year-old self advice what would it be?
Oh, God. Trust your gut. Appreciate the lowkey hangovers. Wear as many crop tops as you can (like you did). Admit that you hate roller coasters and never ride one again. Stay in sometimes; you aren't missing anything. Be patient: you'll figure out what you want to do with your life. Shorten the straps on all your tops. Chill with the intense eyebrow plucking. Keep up the cat eye liner—it will work for a lifetime. Hug your best girls constantly and appreciate your time with them because you will all couple off and have kids and move around and you won't get regular time like this again! Date boys who are your equals. Don't be afraid of kindness. You're right: "Felicity" is a really good show.
What are you passionate about right now? Tell us about it.
For starters, my new shearling lined high-tops. But also, reading books, cuddling my kids, bingeing shows, laughing with my husband and taking this country back ASAP.
As a working mother of two, how do you strike the balance between work and family? What do you do to keep it all together?
I'm not sure I do. But I think that's part of it—realizing that everyone is in survival mode, laughing when plans fall apart and trying to find joy in the small moments. As a freelancer, it can be hard to give myself the time I need. I have always had this sense that I should be getting things done in as little time as physically possible, somehow being a stay-at-home and working mother at once. And, for a long time, I made the mistake of trying to do everything at the same time. That never goes well. The trick for me is designating super discrete time for work and for family and not doing double-duty. And also giving myself breaks for wandering museums by myself, getting my hair done (thank you, Spoke and Weal in Soho!), going to plays with my sister, taking trips with my friends, going to movies with my husband, window shopping solo and reading books while cozy in bed. Beyond that, Lili Mineni's A and C serums keep me looking like I've gotten some sleep in the last five years. I can't recommend them—or her—enough.
What is next for you? Will you write another novel? If so, can you give us a teaser?
There's stuff percolating, but you never know! These days, I'm freelancing for magazines like always, but also working a lot with cool brands, using my background in editorial to help create a cohesive voice and strategic language. And then there's the book stuff. So, hopefully, a blend of it all!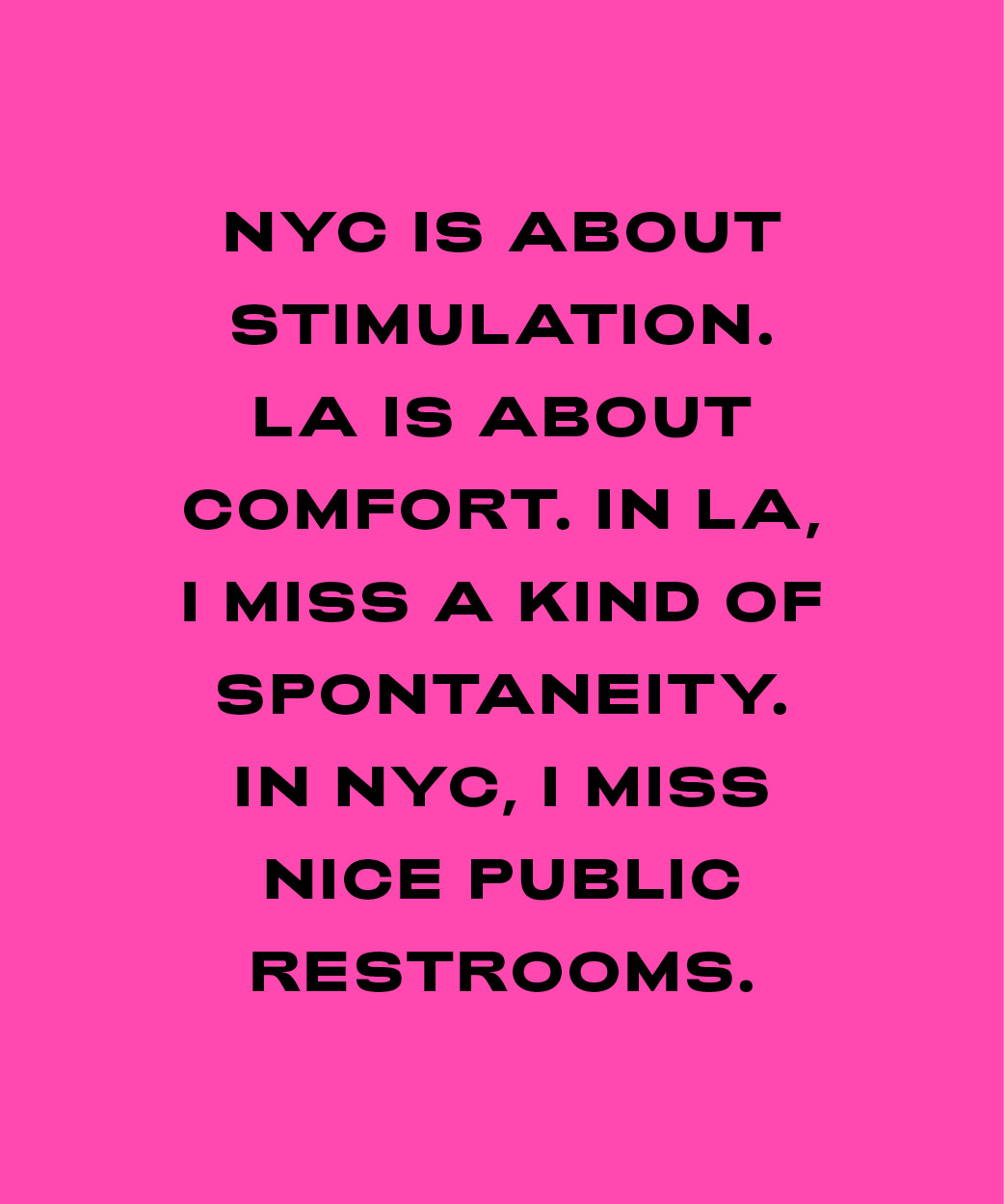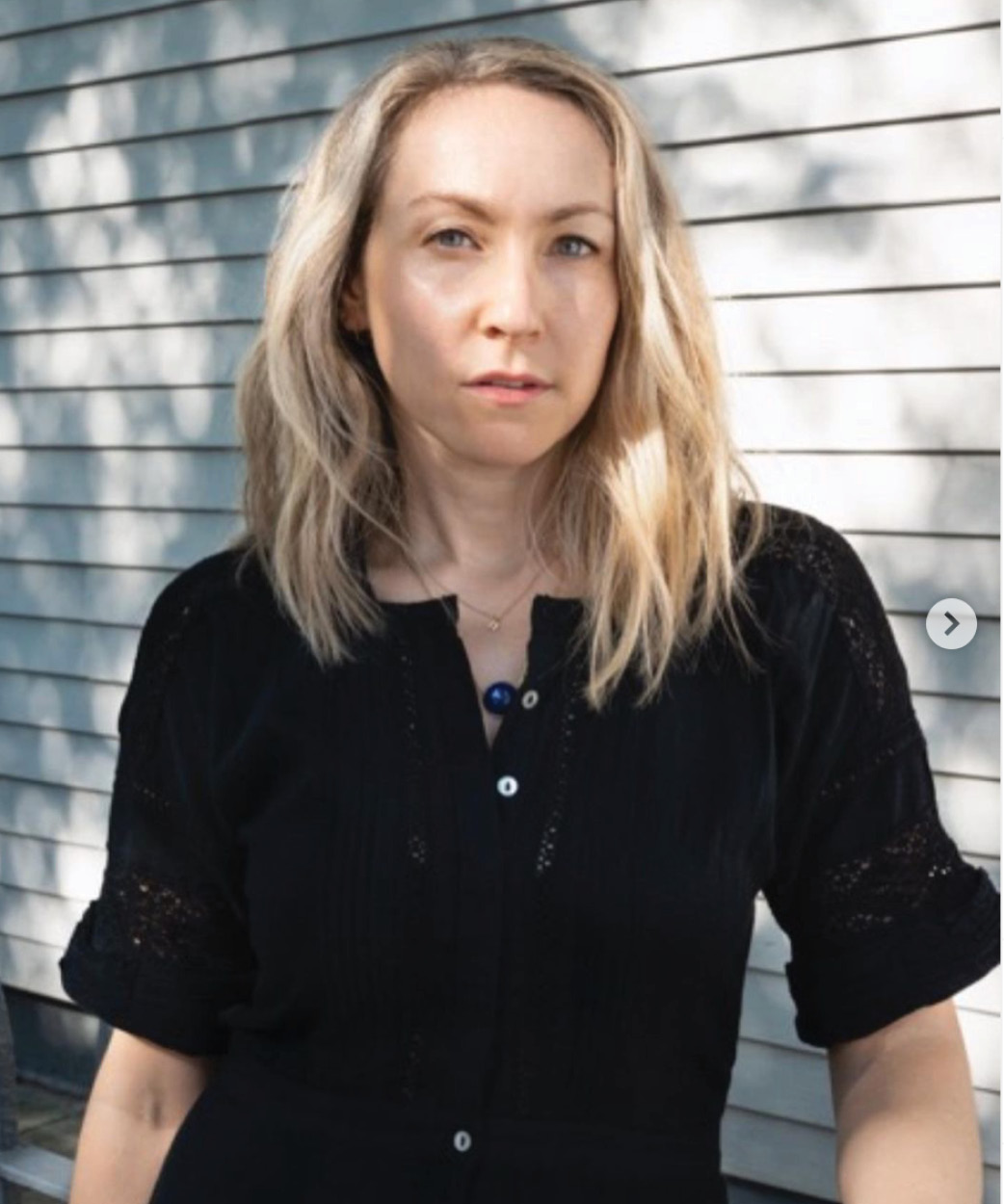 Quick + Salty Title
My Favorite Strap
The Annabelle
In My Dreams, I'd Pair It With
a Jerome Dreyfuss Igor bag
But My Actual Every Day Bag ...
A green Proenza Schouler PS1 Tiny
The Inside Of My Bag
My bag is new right now so: The calm before the storm.
I Stay Up Late With
Always, always books! Just finished The Great Believers. In general, I'm a sucker for romantic comedies and mysteries.
My Beauty Security Blanket
Lake & Skye perfume oil, Lili Mineni A and C serums, Vintner's Daughter Active Botanical Serum, Hourglass liquid eyeliner and Cult lip gloss.
Transport Me, Please
to Casa de Mar in Ixtapa. The water sparkles, the spa serves chocolate tea and the female shaman leads cool ancient ceremonies.
Uniform
Cozy heathered sweater with cuffs, tucked in tee, High-Waisted Looker Mother jeans, and shearling Rag & Bone high tops or No. 6 clogs.
Girl Crush
Kelly Oxford
Karaoke Jam
"The Weight" by The Band. Requires no range.
Celeb Lookalike
I once visited my best friend on the set of an Adam Sandler movie she was co-producing and he mistakes me for Chloe Sevigny.
The Cause Closest To My Heart Is
Women's reproductive rights
The Shakedown
Nora Zelevansky, Semi-Charmed Life: A Novel, Will You Won't You Want Me?, Mulia Villas in Bali, Cala de Mar in Ixtapa, Rag & Bone Shearling High Tops, Lili Minei's A and C serums, Lake & Sky Fragrance Oil Rollers, Jerome Dreyfuss Igor Bag