Megan O-Neill x The Megan
When Megan, aka Mega Girl, aka Major Megan (to us)  enters a room, every woman's head turns.  Not only is she statuesque and drop-dead gorgeous, but she's also smiling, colorful, and confident– the epitome of a salty girls girl– open, cool, kind, and real.   Megan is known as a beauty expert, wellness adventurer, mother, editor at goop, activist, and co-host of goops beauty podcast The Beauty Closet.  As a native New Yorker, Brooklyn resident, and world traveler, she has made a career out of her curiosity for all things health-related, exploring everything from cryotherapy to scalp yoga.   We are so drawn to Megan's sweet-salty spirit, we're dropping the Megan Strap, with proceeds going to Humanrights Campaign supporting the LGBTQ+ community.  We caught up with Megan on what's bringing her joy right now, what she's over-salting, and that connection between the outside and the inside.  
Q + A
You've spent the last 11 years at Lucky, Elle, and goop investigating the beauty industry and the babillions of products out there that promise to lift us up. So tell us, what's the real secret to beauty?  
The secret is actually many secrets. You need to be fulfilled—by your job; by the hobbies that compel you to stop working and encourage balance; by an exercise routine, if that's something that makes you feel good (it is for me); by the food you eat; by the people you hang with. When you're happy, which comes with feeling fulfilled, you look different, you walk different, you are different! And you look and feel beautiful and strong. No cream or serum or oil will ever get you that lickety split. I loooove a beautiful cream, serum, and oil, but that's just a piece of the how-to-feel beautiful puzzle, and not necessarily a crucial piece for everyone. 
Are there things we need to reframe around beauty and wellness?
Definitely. What it meant to be beautiful was much more binary when I was growing up. The hot girl on the cool show tended to look the same—she was usually white, straight, slim, and had hair that hung down (mine floats). And that's just not the real picture. There are so many types of beautiful, SO many. It's such a better, more interesting world when we—the media—show all those different types of beautiful.  Wellness shouldn't be this exclusive, expensive thing. Real wellness is knowing what to do to make yourself feel healthy and emotionally available, to know how to take care of yourself, to know how to let things roll off your back, to know how to not spiral. I do love goop for that, it's an amazing resource, and all the content—Q and As with doctors and psychologists and mindfulness gurus—is free. 
We believe there is a connection between what you wear on the outside and the vibrancy of one's inner spirit.  What's your relationship to color, clothes (or lack thereof), and what wardrobe staples make you feel like your whole self?
I think even on a not-great day I love being alive. I love walking in New York, I love my morning oat milk coffee, I love a lot of things. And loving things is energetic, and energy has to move or be expressed, which is why color is such a thing for me—dressing colorfully and even having it everywhere in my home. Hot pink, seafoam green, bright coral—it's all so expressive and joyful! Why not wear all the colors and surround yourself in your home with them. I also love showing my stomach, my clavicle, my arms, and legs—I love showing skin! I have it, and I'm happy with it, so why not show it. All skin is so beautiful because it's alive. There are some vintage skirts I have that are staples—they're flowery and colorful and swishy, and I feel fluid and lyrical in them. And looooove a crop top and a bralette in summer—with a skirt or cutoffs. 
What are you wearing right now? (That sounds suggestive, but we promise we don't mean it that way.)
Ha! A red, super worn-in vintage red t-shirt that a mystery person left at a house party I threw in my 20s. It's baggy, like the good baggy. And black leggings—I did Pilates this morning and have been hunkered down working ever since and didn't get a chance to slip into something else. And lime green Crocs, my house slippers. I'll never go back to being Croc-less, they are fantastic arch support (talk about colors).
It's the third year of the pandemic and within that time you've become a mother– congratulations.  How do you think your experience has been different from other working mothers, and what's your self-care go-to.
It was pretty great being able to work from home in terms of not having to haul my breast pump around. What a bummer that would have been, that thing is heavy. And I'm pretty sure insurance—which I'm lucky enough to have—pays for just one, so there would have been no having an office pump and a home pump. My self-care hasn't really changed—I'm still loving clean skin care and reading ingredient labels. I work out less—I'm yoga and Pilates forever—because that baby wakes up early, but I still manage to do something twice a week at least. My husband and I make the working out happen, that's very important to both of us.
How has your relationship with clothes changed?
I love them more than ever because I'm determined to not be a frumpy parent! I gotta look great for baby Lagos!
Back to that connection between the inside and the outside.  Proceeds from your strap will go to The Humanrights Campaign.  Tell us about them and why this is important to you.
The anti-trans legislation happening—is happening to all of us. Trans human beings—human beings who think and love and cook dinner and go to the movies, like everyone else—are under attack, and that's unspeakably grim. This restriction of rights is cruel and evil, and it will come to every single one of us at some point. We have to stop the legislation—and the only way to do that is to go out of our way to care and work together.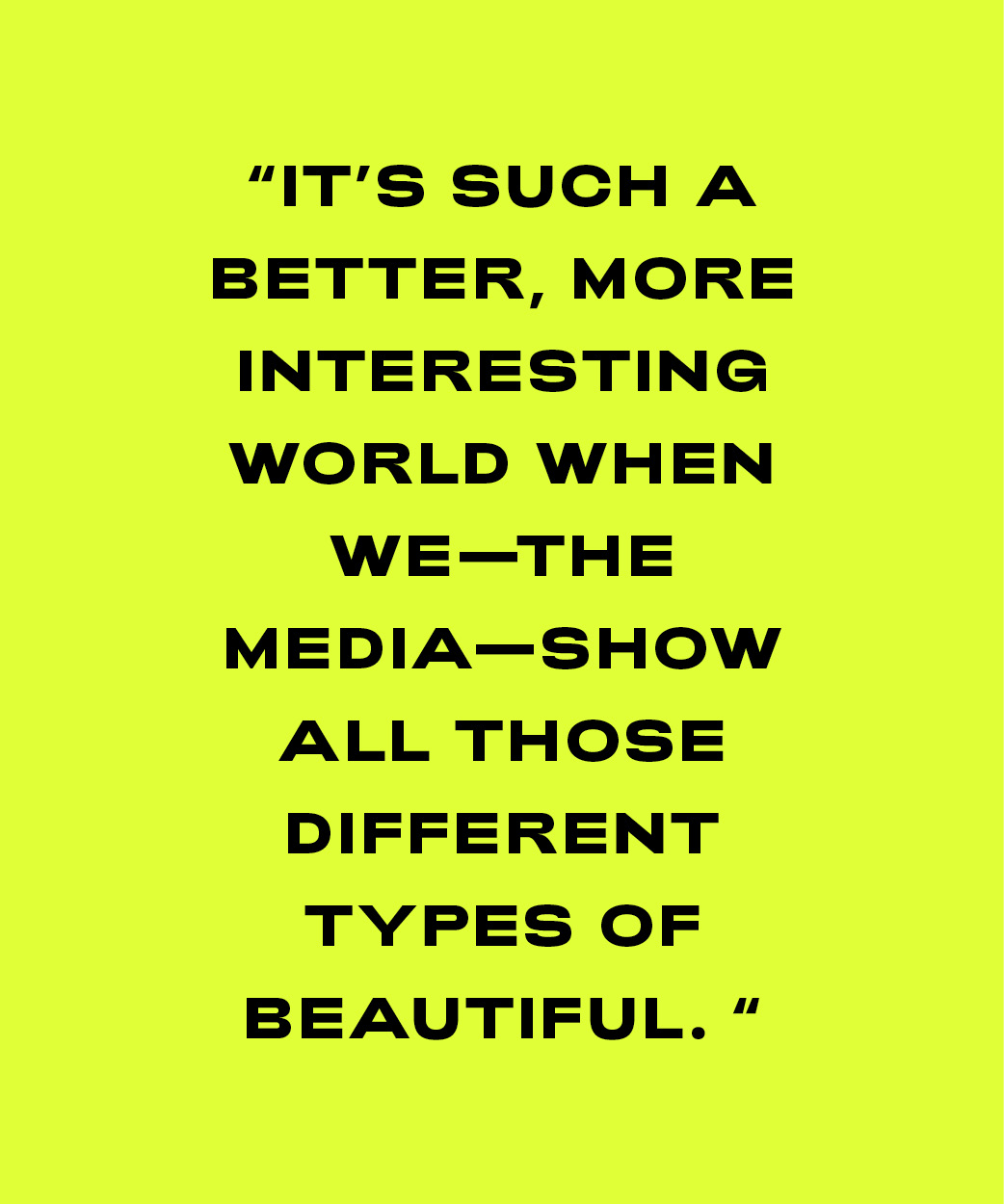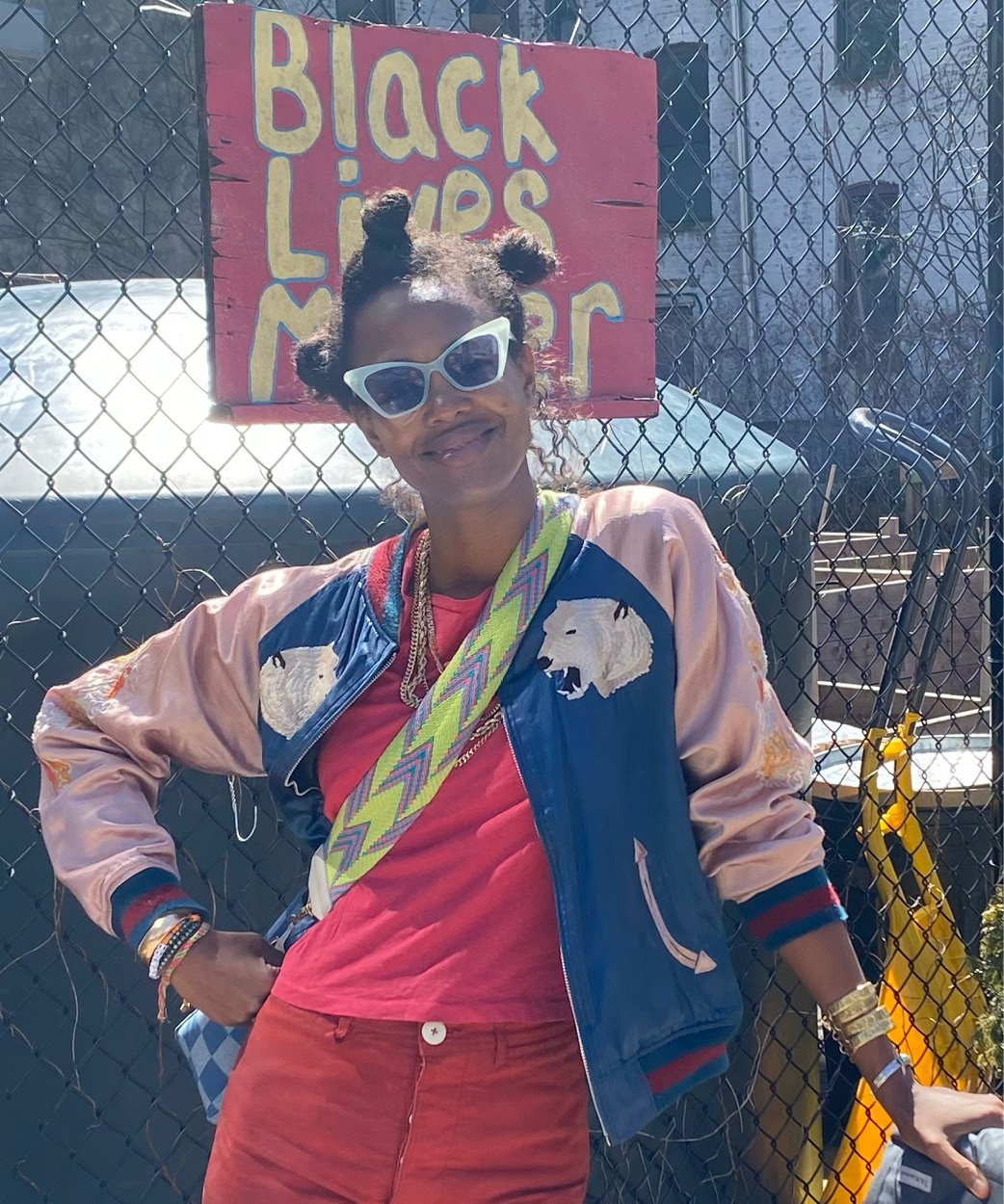 Quick + Salty
Favorite Strap 
Megan strap, which reminds me of the coolest lanyard bracelets from summer camp days.
In My Dreams, I'd Pair It With
A neon bikini on the beach in Jamaica.
But My Actual Everyday Bag…
Is this cute little Salt Paloma bag lately, actually. It's fun and sort of skatery, and dresses up my cropped pants, Acne sweater, and Stan Smiths uniform
Inside My Bag
goop tinted lip balm, a neon green woven pouch I got in Mexico City where I keep my Metrocard, cashews and raisins in a Stasher bag (what a mom)
Most Tempting Sweet
Levain cookies.
I Over-Salt
My salmon–ugh! But honestly I'd rather over salt then produce something bland 
My Beauty Security Blanket
I need to be covered in oil/moisture at all times. Loving the cushiony body oil from Yawoni currently.
Transport Me, Please
To Paris for a long weekend, or Jamaica.
Girl Crush
Teyana Taylor. She's the best dancer in the world. And 90s Gwen Stefani.
Karaoke Jam
Hey Jealousy by Gin Blossoms and Alanis You Oughta Know (the besssst)
Celeb Lookalike
Gotten Tessa Thompson a bunch! Down with it!
The Cause Closest To My Heart
I want to help marginalized people eat better.