Theo Kogan x The Bowie
Theo Kogan is a total rockstar—literally. Most people know her as the vocalist for all girl punk band, The Lunachicks, and front woman of Theo and the Skyscrapers, but she's also a songwriter, model, actress, makeup artist, mother and one of our favorite Salt Shakers!
This beautiful and talented creature took a pause from her latest passion project, Persisticon, to join us for a cup of coffee and a down and dirty chat:
Q + A
Share your most awkward make-up artist moment?
When I realized that suddenly I needed glasses while was in the middle of doing individual eyelashes on someone and had no clue where I was gluing them. Awkward!
How has growing up in NYC influenced your personal style?
In every way! I think the style flavors on the street here are truly like no other place. I have always been influenced by elder -style and baby clothes. I love eccentric people and mixing patterns and fabrics. I also love how style can make you stand out or become invisible.
Give us a rundown of the top 5 must-have products in your medicine cabinet.
Right now it's OLO rose facial oil, Goldfaden eye cream, Dr. Tungs floss, Purlisse blue lotus face wash and Flonase. I am allergic to almost everything.
What beauty hack did you pick up from your modeling days that you still rely on?
Curling my lashes, every day. It makes such a difference.
What was your most rock-n-roll moment as the front woman of The Lunachicks?
There are so many. Maybe even more Spinal Tap moments. I think getting to tour Japan was a dream come true that happened and it was like touring no other place. Getting followed down the street by fans and met at sound checks by them with gifts was truly amazing. Also I remember vividly signing my first autograph and being so weirded out by it.
Tell us about your latest passion project, Persisticon.
When 45 was elected I knew I had to do something to help things flip again to the left and to a saner, kinder world like what we had sadly begun to take for granted with Obama as President. (Man oh man, do I miss that man)! I felt like if I didn't focus on making things change and fighting for women's rights, LGBTQ rights and of course People of Color, I was going to lose my shit. The fruition of Persisticon was with Diana English of our neighborhood store, Diana Kane and myself talking and having the deep need to DO SOMETHING. We rounded up a group of great people --all just right here in the hood. We decided we needed to combine the things we love -- comedy, art, music and getting more women in office via activism. And so we and created Persisticon, an event to get people laughing, activated and hopeful all while raising money to get more women elected. Between the two big events raised over $30k for Emily'sLIST. So it helps me cope and helps our future and it's SUPER FUN! Peristicon 3 will be in March or April 2019. I can't wait!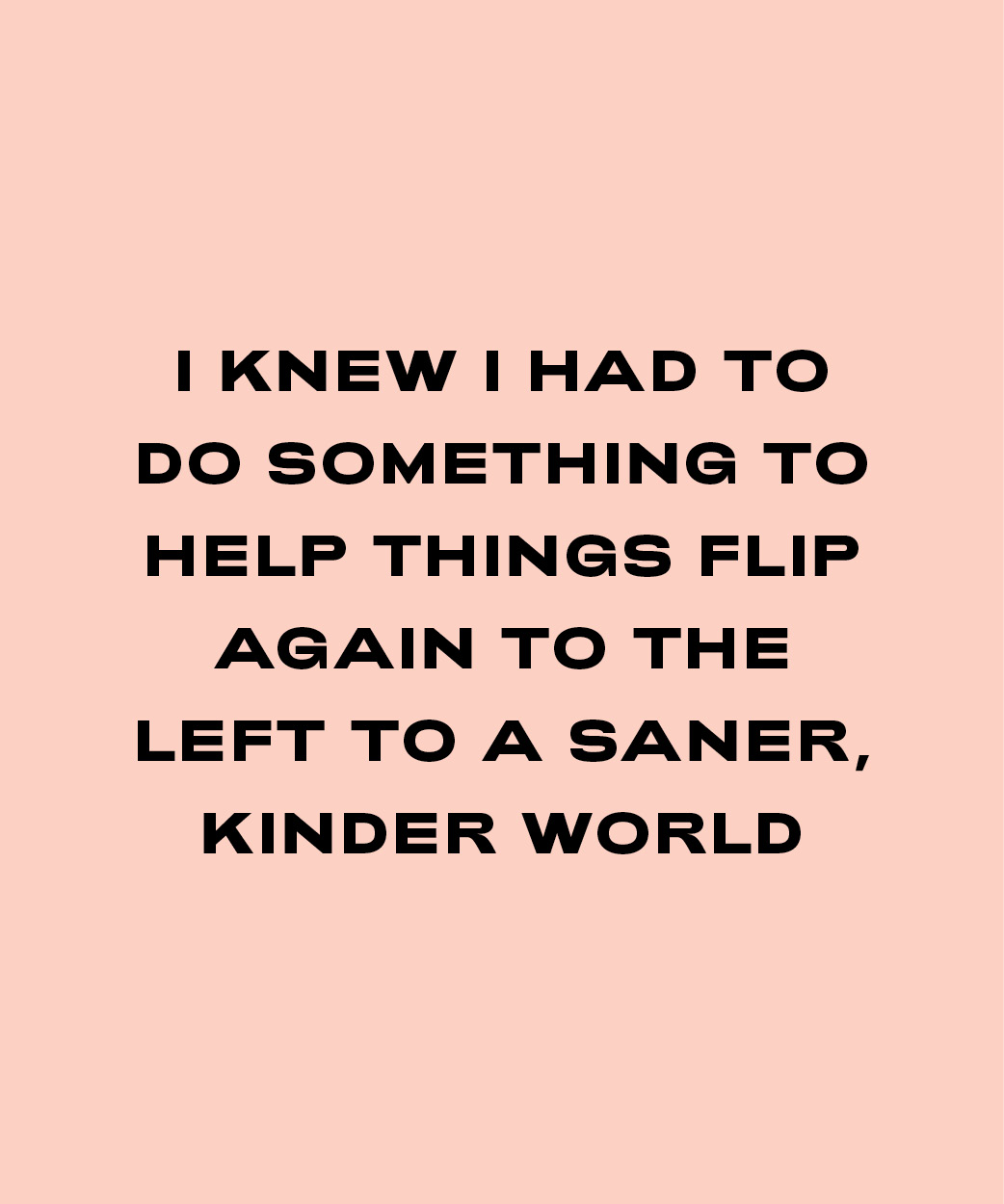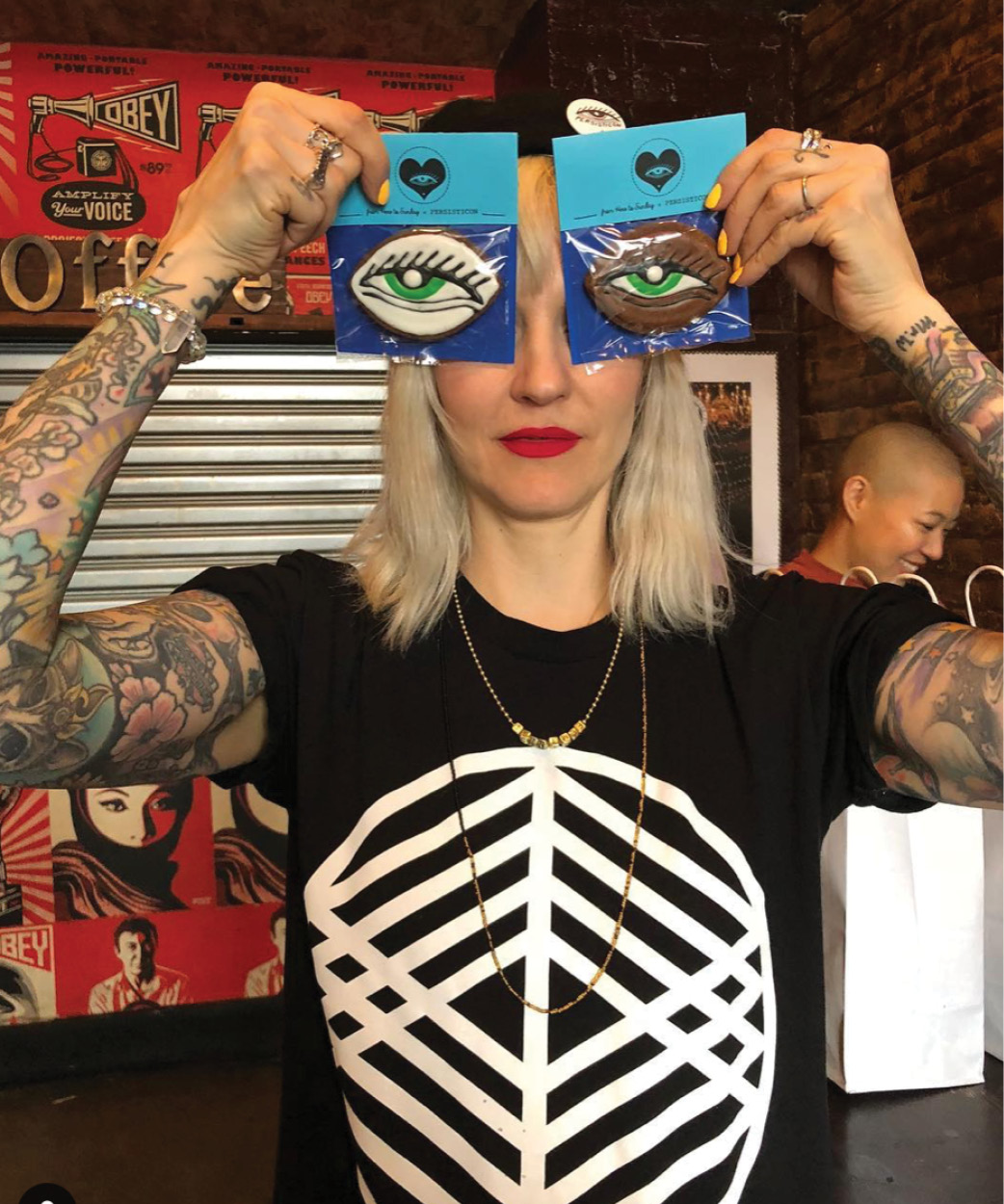 Quick + Salty
My Favorite Strap
The Bowie (and Zoe and Theo!)
In My Dreams I'd Pair It With...
Vegan Stella McCartney
Lipstick or Chapstick?
Never chapstick, but yes always at least three lipsticks
My Beauty Security Blanket
Sleep
Car Keys or Metrocard?
My Bowie Metrocard. I got every one of them!
Most Random Thing In Your Bag
Once, a butter knife.
My Bag Is...
Filled to the brim!
Most Essential Thing In My Bag
Weleda Skin Food Hand Cream
Always Carry For Emergencies
Jao brand hand sanitizer.
The Shakedown
Lunachicks, Persisticon, Theo Kogan Makeup,The Bowie Strap, Olo Rose Oil, Goldfaden Eye Cream, Purlisse Face Wash, Stella McCartney Bag, Weleda Skin Food, Jao Sanitizer